David Robinson Artist
David Robinson worked in the Universities of Bristol and Sheffield doing research in the Life Sciences, and is a qualified photographer. Part of his job was photography and illustration and looking after Audio Visual Aids.
He has painted all his life and now paints in a selection of media, even painting with his finger on the ipad screen.
David specialises in oils and loves working closely with the client on commissioned work.
He has a wide variety of styles too, as showcased here, though his preference is for painting colourful seascapes of wild coastlines. The portrait shown of David is a self portrait in oils.
As well as this he has played Fender bass in many professional and semi-pro bands including Champion Jack Dupree's 'Premonition', 'Essential Bop' The Deep Blues Band' and 'Barrelhouse'. 
Website http://www.robinsonart.co.uk
MY COMMISSIONS
These are a few of the commissions which I have completed during the last thirty years, during which time I have painted animals, birds, flowers, still –life, landscapes, seascapes, portraits, houses, motorbikes, cars– you name it.
In the early days commissions were much more plentiful, they are by far my favourite work as I enjoy pleasing people and undertaking challenges.
Several paintings have taken quite a bit of research to complete and in every case I have submitted results of the research with accompanying drawings to the client for feed-back. As with all my commissioned works, I supply drawings at crucial stages of the painting to the client, thereby attempting to ensure that he or she get exactly the picture they envisaged.
In one case (shown here), the painting was commissioned by a direct ancestor of a world famous person and the subject was such that the entire picture had to be based on research, as no actual pictures of the exact scene were ever available.
David Robinson 13th August 2020.
Commissions include:
A couple outside        A four year old girl        A Thai holiday
their home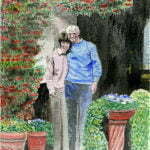 A snowball fight               A sea battle                   Cat on a cliff
Kiowa searching for new hunting grounds
Showing 1–32 of 33 results
Sale!

Art Buyers: Visualise how this would look at home! If you send us a photo of your home, we can digitally insert this artwork onto your wall. This is a complementary free service.