Land Yeo River in Nailsea.
£320.00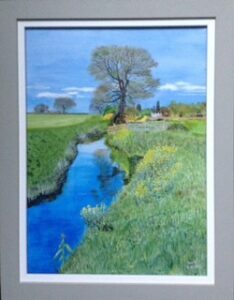 Framed oil painting of  the Land Yeo River, running through the town of Nailsea in the spring.
By: DAVID ROBINSON
Description
An oil painting of the Land Yeo river in Nailsea. I am a member of river volunteers the Land Yeo Friends. I have painted this oil painting to sell for funds to support the group who look after the cleaning of the river, and monitor flow rates and pollution. The painting which is roughly A3 size has been professionally framed by 'Fizz' of Hill road Clevedon in a striking neutral frame with white 'slip'. The picture is painted in oils on a canvas stretcher and is approximately A3 size.
The setting for the painting is the Gordano valley which is similar to the Somerset levels though smaller. The river flows from Barrow Gurney to Clevedon pill for many miles through wild habitat and farm land and ending up finally in the Severn Estuary. It is important in removing surface water flooding, and we consider it important to monitor pollution levels and to remove any unwanted debris and litter.