FEATURED ARTIST OF THE MONTH : SUCHETA ROSE
"Windsor Tree Series (After the Rain)"
"Tell us more about your inspirations, in particular trees that feature strongly in your work".
I draw a lot of inspiration from my walks and paint from photos that I take. Berkshire is home to the Windsor Great Park which has a varied landscape and the trees in particular hold a fascination for me because of a kind of 'wisdom' they impart. Our surroundings change over time but many of these trees have existed for 100's of years and are witness to history unfolding. Preserved landscapes such as The Great Park keep their integrity and allow us to walk with that integrity and beauty even when life can be stressful. It allows us to relax, refresh and take time out. I try to capture this feeling in my paintings. I also love the effects of seasons, weather and light on landscapes and trees. It is art unravelling around us.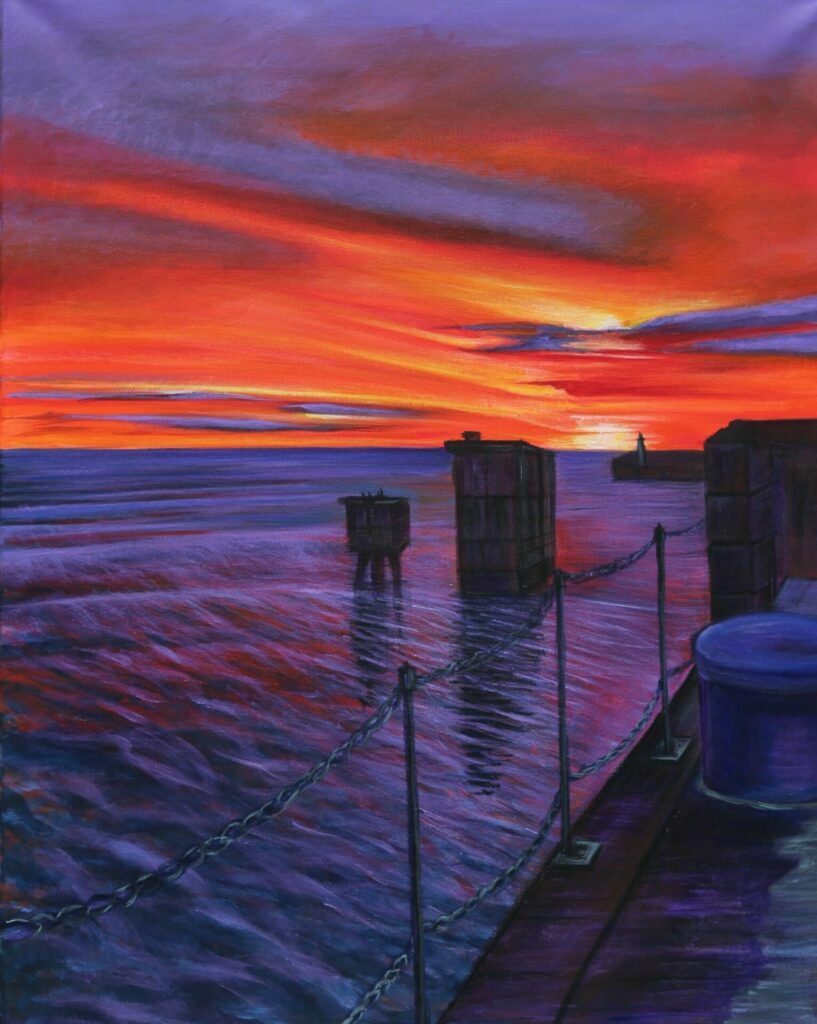 "Kent Sunset"
"Both 'Kent Sunset' and 'Windsor Tree Series' show a love of strong colour and contrast. Can you tell us more about this aspect of your work?"
I am drawn to images of landscapes where the natural light has created often spectacular and bold colours which we would not otherwise imagine. Light and shade are what give depth and meaning to paintings so strong colours allow me to explore this contrast. I try to capture the realistic but rare moments in time when these unexpected colours emerge. Both 'Turquoise haze' and 'Trees on fire' capture such moments. In "Kent Sunset", I was able to create a strong sunset which then reflected into the deep water creating a lilac veil of velvety texture.
What makes a good still life painting?
When I paint still life, usually fruits, vegetables or flowers, I try to place them with contrasting objects. This adds interest and substance to the painting. I also like to paint interesting fruits or vegetables on their own, such as a pineapple (a recent one). The texture and colours in it stand out on their own. A background must be carefully considered. This can often be the most challenging detail. It has to allow the objects to stand out without overpowering them and at the same time give substance and weight to the objects. Depth and shade are integral aspects of a still life. As ever, the placing of light can make the painting come to life!
"Rose and Fruits"
"Please can you tell us about your painting 'Rose and Fruits'?"
Like so many of my paintings, I am quite spontaneous in the way I put my objects together. In this painting I wanted to create a vibrant colourful and Spanish taverna feel to the painting so I chose the green jade vase, a genuine piece of Spanish pottery, as my lead object. I then sought fruits from my kitchen with colours and shapes that would compliment but not compete with the vase. The rose gave the painting the crucial 'ole!' Perhaps I should have called this 'The jade vase'!