ARTIST OF THE WEEK MARTIN MAXIM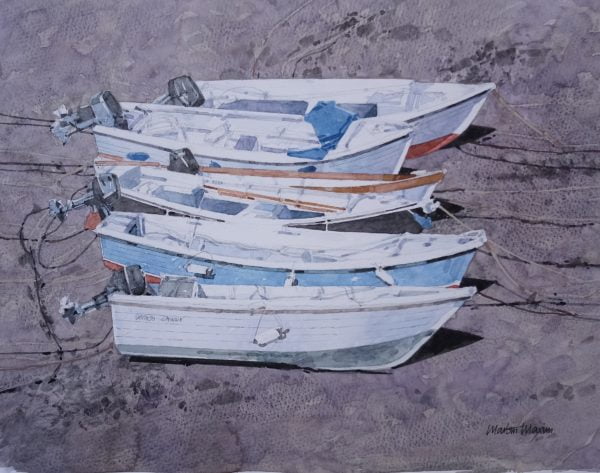 Boats at Portscatho, watercolour and gouache
Our artist of the week this week is Martin Maxim.We asked him three questions about his work
Can you tell us more about this composition and your preoccupation with 'seeing', in particular how you capture light and shadow?
"Seeing these boats on the beach in Portscatho from a fairly high viewpoint suggested a rather two dimensional pattern which I concentrated on. Exaggerating the colour and tone of the estuary sand made it much darker to contrast with the much lighter tone of the boats.
Marine landscape is one of my preoccupations."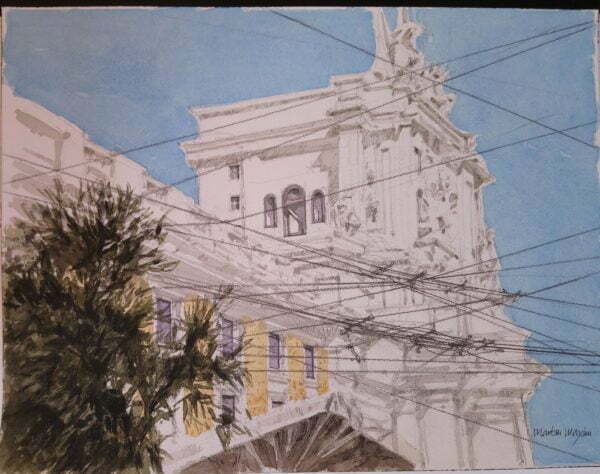 Praca Do Commercio, Lisbon, watercolour
Praca Do Commercio is an intriguing and well-balanced work, effectively capturing the play of light upon the building's façade. Can you tell us more about the key rules in capturing architecture?
"A good knowledge of perspective is essential for a start. Identifying vanishing points and recording the play of light and shadows and how that draws out the construction is important. At the end of the day I just really liked this wedding cake of a building and the tramline patterns cutting across it. I have always enjoyed drawing buildings and much of my commercial work revolved around architectural drawing."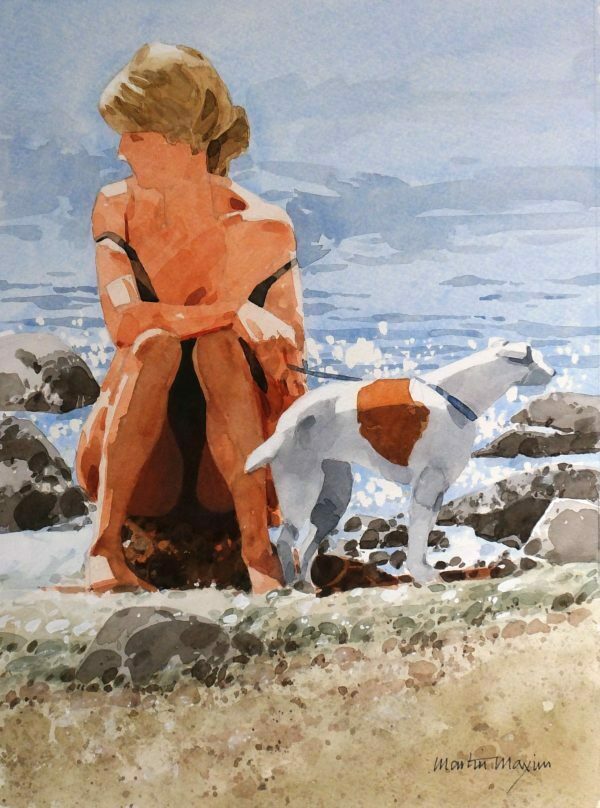 To Swim or not to Swim, watercolour
"To Swim or not to Swim" Can you tell us more about the narrative behind this work and the importance of sketching to your practice?
"The woman in the picture is looking out to sea to her husband swimming, unfortunately the dog, who hates water, is looking at the car park. I was walking on Shaldon back beach looking for potential sketching matter and came across this little dilemma which I captured and later turned into a painting. Sketching for me is a way of recording subject matter which might or might not become larger pictures – a moment in time like a diary."
See more of Martin Maxim's work at https://www.artgallerysw.co.uk/vendor/martin-maxim/