FEATURED ARTIST OF THE MONTH: HAZEL MCNAB
"Porthmoina Cove"
"What makes a good composition for a linocut?"
I'm an Artist/Printmaker and I mainly work in reduction linocuts, I use the same piece of lino and cut away each colour after I've printed that layer. When you've finished there's hardly anything left on the lino which makes it a limited edition.
For me a good composition sort of tells a story and leads you into the picture. There's got to be something worthy of a longer look to see what's going on.
I work from my own photographs and will scramble down rocks to find the right image.
There needs to be a focal point and contrasts of light and dark. I love texture and pattern (my background is textile design) I want to make you aware of details you might not have noticed.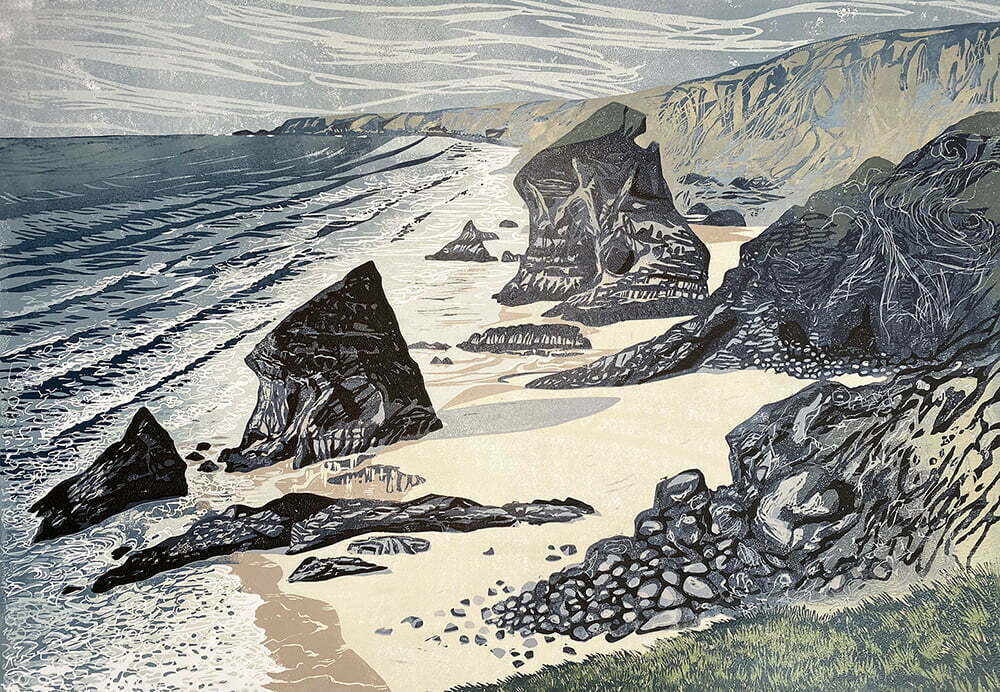 "Bedruthan Steps"
Can you tell us more about your work "Betruthan Steps" ?
Bedruthan Steps is my latest print I have just finished. I'd been looking forward to going and discovering the place for myself for a while and when I did I immediately fell in love. The presence of the great rocks on the beach is awe inspiring, I was disappointed the steps have eroded and I couldn't get down, but it keeps the beach beautifully footprint free. 
My challenge for this print was to achieve the space between the rocks on the beach. I wanted the viewers eye to be drawn all the way to the far distant headland out at sea.
"Last Summer"
"Tell us more about your linocut 'Last Summer"?
"Last Summer" catches a view from the walk up from Portheras beach. It was a beautiful evening and I'd had a family picnic down there, as we walked back the golden hour was in full glory and the heads of the little pink flowers were catching the sun so beautifully I wanted to see if I could capture that on paper.
If you're interested to see how my prints are made, I usually write a News/Blog post telling their story. You can see it on my website under the NEWS header, and subscribe to be sent each new story as it goes up.