Welcome to November's newsletter! As the last month of Autumn fast approaches and there is suddenly a chill in the air, take some time to find a cosy chair and discover this month's new selection of semi-abstract works.
Kirsten Elswood 'Earth Scented Breeze'
Kirsten Elswood

Full of earthy undertones Kirsten's work has a deep connection to the landscape. Her work is a celebration of wild and rugged environments and a deep affinity with nature. She skillfully strikes a balance between the beauty and darkness of the natural world. Her paintings are full of tonal extremes creating a tension and real unease that bubbles beneath the beauty of these paintings of wild spaces.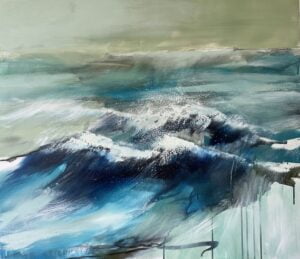 B.Reynell 'Feel the Wave'
Belinda Reynell

'Feel the Wave' is a powerful work that captures the beauty and raw energy of a top-breaking wave offshore. So real is this scene the viewer almost feels the power of the churning waves and the chill wind catching the spray. The depiction of the water is enhanced by the skilful use of thin paint that has left long drip marks on the canvas creating the illusion of wetness.

Alexandra Lavizzari 'Autumn Mystery'

Alexandra Lavizzari

'Autumn Mystery' is a digitally created semi-abstract artwork. Alexandra has based this work on a photograph of Autumn foliage. Vibrant reds and oranges have been placed against a dark contrasting background for impact.

Alexandra is a Somerset artist, writer and photographer. She is drawn to the natural world. Favourite subjects include animals and birds. Her art takes many forms from: paintings, pet portraits, to collages and tiles. She has a passion for travel and is especially drawn to India, Muslim countries and deserts.

Michael Tarr 'Ombrellone 1 Abstract'

Michael Tarr

'Ombrellone 1', is part of a series of 10 paintings that are inspired by Italy and its exceptional quality of light.

Michael's work elevates everyday subjects, taking an unusual perspective that is often transformative. This oil painting with its small patch of blue sky continues a recent exploration of views glimpsed in passing.

His interest in pattern is evident here, as is his use of strong tonal contrast between light and dark. Other typical characteristics are the painting's geometric nature and strong structure.

Rosemary Bonney 'River Reflections'

Rosemary Bonney

Rosemary is passionate about Dartmoor, its wild areas full of drama and its rivers and walled features that denote a softer beauty.

'River Reflections' is a gentle semi abstract acrylic work. It is a calm reflective piece that captures the reflection of sunlight and clouds upon the water.

Both representational and abstract styles are used in Rosemary's practice. She uses a wide range of media including: acrylics, mixed media and oils. Sometimes she includes found materials such as sand and grass in her work.