CHARLES T MAHER FEATURED ARTIST OF THE MONTH
"Corfe Castle"
"What are you currently working on?"
.I'm currently working on a small painting in oils of Portland Bill Lighthouse from a photo taken Easter weekend. Viewed from a rocky high point looking down from the landward side with the lighthouse and buildings backlit by the sky and sea.
"Road to the Monument"

"How do you set about developing your art skills in your practice?"
I usually start by working from photo's taken from one of my walks, then in the studio develop pencil, pen or watercolour sketches in my sketchbook, I then begin transferring the design and scaling up the image to my canvas, board or paper in charcoal, before starting the actual painting in oils or acrylics. I sometimes paint en plein air in oils but not very often as I prefer painting in the studio with all my paints and materials to hand. I find carrying all the buly paraphernalia, paints, mediums, easel, chair etc., just too much and prefer to just sketch outside with a small backpack of pencils, crayons, pens, watercolours and a couple of small sketchbooks.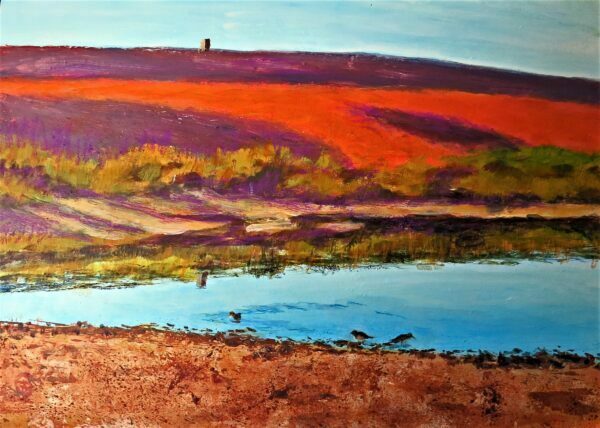 "Tidal Pools, Lower Fleet with Turnstones"

'Tidal Pool, Lower Fleet with Turnstones' is part of a series of works exploring tidal pools on Chesil beach. Can you tell us more about this series?"
The 'Tidal Pools' paintings started last year inspired by my many walks with camera during lockdown, walking along the lower end of the Fleet and Chesil beach on the Causeway, by the Visitor Centre (just 10 mins walk from my house). Often at low tide you get a river effect and interesting pools with lots of feeding birds in the shallows, such as Brent Geese, Turnstones, Dunnet, Little Egret and Oystercatchers, as well as the usual Terns and Gulls.