ARTIST OF THE WEEK YVONNE DONEY
Yvonne lives and works on the edge of Exeter, where she has a studio in her cottage garden.
We asked her first what led her to jewellery making.
She explained, 'Well, I tried oil painting and dabbled a bit in pottery, but failed to find any real enthusiasm for either. I was always a bit of a tomboy as a child, possibly because all the other children my age who lived on my small street were boys, so when I discovered something that would allow me to play with hammers and fire, I fell in love with working with precious metal.'
What was it about metal that proved so attractive to you?
'Oh, its malleability! The fact that you can take a piece of flat metal and change its shape and form is endlessly fascinating to me.'
We notice the unusual silver beads in your ruby in zoisite necklace. Is that an example of what you mean about metal's malleability?
'Yes, exactly. When you heat metal with a flame, it becomes softer, so once it cools you can manipulate it into the shape you are aiming for. Obviously you need to have decided on the shape beforehand, so that you can cut the metal accordingly. Here, I wanted to echo the triangular shape of the ruby in zoisite pieces, but soften it. I happened to notice a croissant on a bakery counter, and voilà, the shape was exactly what I needed!'
So, quite everyday things can inspire a design?
'Yes, it's simply a question of seeing the possibilities of reproducing something in metal.'
Like your limpets bracelet?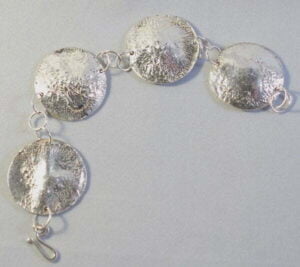 'That's right. I cut circles with a jeweller's saw, shaped them into domes with a hammer, then reticulated the surface to replicate the rough texture of the shell.'
Reticulated?
'That's a process in which I heat and cool the metal repeatedly, usually about six times, which brings the fine silver to the surface of the metal. Then I keep my flame on the surface without moving it until the silver begins to melt and flow. By dragging the flame this way and that, I can direct the flow to achieve the desired effect, which could be anything from just a slight shimmer to something that resembles the twisted limbs of a mythical tree! It is an organic process that is somewhat unpredictable, but that's what I like about it.'
Do you make all the silver elements of your work yourself, or do you buy in any of them?
'I do buy the little butterfly backs for stud-style earrings. I could make them, but that would be more expensive, in terms of the time it would take, than buying them. I do make the wires for dangling earrings. I also buy small silver beads to use as accents in my semi-precious stone creations, and I sometimes buy loose silver chain, but always prefer to make my own, as in the amber pendant, since that allows me to create designs in which the different elements complement each other.'
What techniques do you particularly like working with?
'I love my hammers, so forging is a favourite, and as I said before, I really enjoy the unpredictability of reticulation. A relatively new silversmithing technique is foldforming, which you can use to create wonderful flowing forms by folding the metal in various ways before hammering it. That's one that I'm definitely falling in love with, so watch this space!'
More of Yvonne's work can be seen on her website, www.yvonnedoneyjewellery.co.uk, which is currently being redesigned and will be relaunched within the next couple of weeks.