ARTIST OF THE WEEK GORAN HAHNE

"Fish Barrel" Original Lithograph print
This week our artist of the week is Goran Hahne. Goran is an acclaimed artist all over his native Scandinavia but less well-known in the UK. He lives in Dorset in a village near Blandford. We asked him about three of his most intricate works.
Your lithograph "Fish Barrel " is a work full of colour with a strong contemporary feel. Can you tell us more about your lithographic technique and it's development over the course of your career?
The word "lithograph" means "stone print". Toulouse Lautrec used lithography to create his famous posters and I have always had an interest in the original technique using a greasy crayon on a thick piece of limestone. The image was drawn in reverse and a separate drawing had to be created for each colour to be printed. Afterwards, the stone was dampened with water, which was repelled by the greasy medium wherever the artist had drawn. Then the stone was inked with a big roller loaded with oily ink which adhered to the greasy areas but was repelled by the wet bare stone. The paper was then pressed to the stone and the ink transferred to the paper. The stone had to be very thick (up to 50cm) to ensure it didn't break. After each drawing, the stone had to be ground down by hand by 2mm ready for the next drawing. A 50cm thick stone could only be ground down by 20cm, after that the risk of it breaking was too high
After a couple of decades, this was done by machine but the use of wax crayon remained the same. Then came a time when the stone became too expensive to mine and a machine was developed which could grind a thinner stone without breaking it. Around the middle of the 20th century a cheaper and more convenient technique was developed where the artist drew with black ink on a specially prepared film and the colours were printed, still one at a time, using an offset machine.
I saw modern lithography as an excellent way to produce several copies of a work which would stand the test of time and not fade. I started with black and white and then moved to colour, usually 16 colours, sometimes more. Over a period of thirty years I have produced at least 600 lithographs. I worked with the same printer during that time and learnt a great deal about colour and printing techniques.
"Fishing Boat, Lulworth Cove" Original watercolour
Please tell us more about your use of watercolour in 'Fishing Boat, Lulworth Cove'and the appeal of this medium to you?
As a young man, my great love was to travel round the Swedish archipelago in my small boat and to paint the water, islands, harbours, boats, etc. I soon learned that oil paints were not very practical on boats! I wanted to achieve clear definition and realism in my art and developed a technique with watercolours using small pieces of adhesive tape to block colours in sequence. Thus I was able to produce paintings which were alive, detailed and realistic. I've continued to use this technique for many years and it is still my favourite way to paint. I love the sea, boats and fishing harbours and I was particularly drawn to this fishing boat with its colourful floats and appealing shape. I abstracted the background and added a few people, to make the boat the centre attraction.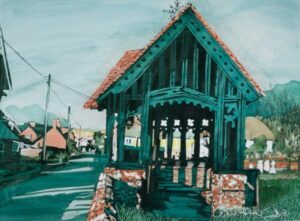 "Lichgate" Original watercolour.
Your work also takes inspiration from Dorset villages and their historic buildings. Your detailed watercolour 'Litchgate'highlights this inspiration. Can you tell us more about this piece and its development?
I am always attracted to old and interesting buildings and this lichgate at the entrance to Holy Trinity Church, Stourpaine, is just 100 metres from where I live so I walk passed it regularly. I had already produced a small lithographic print of the lichgate and was keen to do an original watercolour and to include some of its setting with the houses on the road leading North towards the historic Hod Hill.
See more of Goran's workhttps://www.artgallerysw.co.uk/vendor/goran-hahne/