ARTIST OF THE WEEK JILL PRESTON
"Lining up the view"
This week the artist of the week is the Somerset based artist Jill Preston.
"What are the biggest influences on your work?"
I am often inspired by the landscape of Britain, especially the South West and Scottish coasts with their fishing villages and harbours. The changing moods of the sea from reassuring calm to powerful ferocity is another of my interests. A love of bright intense colours and a new and instinctive emergence in my thinking of straight lines and shapes, have also had a strong influence on what and how I paint.
" You often work in a variety of styles. Do you have a style you enjoy most, if so why is this?"
I have frequently been challenged by comments about how I keep changing my style. The truth is that I am not interested in developing 'a style' as I have only had the time to be able to paint seriously since my retirement. Therefore I am keen to experiment and to try as many different approaches possible and, above all, have fun! Currently I am enjoying concentrating on impressionistic approaches and abstraction. This does not prevent me from going back to representational work when the mood takes me.
"Lining up the view 1 is an imposing and witty work. Can you tell us more about this work from your initial idea to its final development?"
My newly discovered fascination with lines and shapes crops up in my work almost unnoticed until I actually featuring them. It seemed to me that the tidy yet haphazard arrangement and orderliness of the fields and hedges of the South West, could be depicted without as much as a nod to the rules of perspective. I enjoyed turning this idea into a pattern. Although perspective disappeared, the fields, hedges, cliffs and seafront remained; maybe, a step towards simplicity and abstraction. It was surprising fun!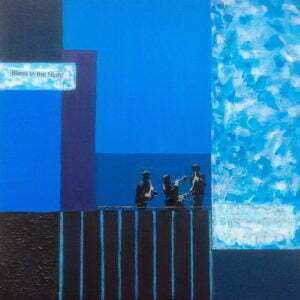 Blues in the night"
Blues in the Night is another painting that seamlessly blends the abstract with more representative elements. What was your inspiration for this acrylic painting?"
People have remarked how often the the colour blue is the dominant colour in my work. I now believe that, deep down, blue has always been my favourite colour. It can represent joy and happiness but also sadness. Growing up in the forties and fifties with three siblings quite a lot older than me, I was exposed on a daily basis to the music of the times; swing, jazz and the blues. I have retained a love of jazz and blues to this day. 'Blues in the Night' is one of my favourite songs from those times. I wanted, in this picture, to emphasise the darkness and solitude of the night, when sad thoughts can overwhelm, but also to offer up hope in the form of jazz music – hence the inclusion of the musicians.
"Implosion"
Implosion on the other hand is a highly charged purely abstract work. Can you tell us more about your carefully chosen colours and your final vision?
I believe that the best and most interesting abstracts are those which come straight from the inward thoughts and moods of the artist at the time the work is being painted. When I started this painting I was feeling fairly grumpy, irritated and a bit sad. I decided to paint with vigour in the hope of breaking my mood. In truth the colours chose themselves with that blue again predominating. I painted the picture very quickly and when it was finished I had really cheered up! The title seemed totally appropriate.
See more of Jill's work: https://www.artgallerysw.co.uk/vendor/jill-preston/