Artist of the week Göran Hahne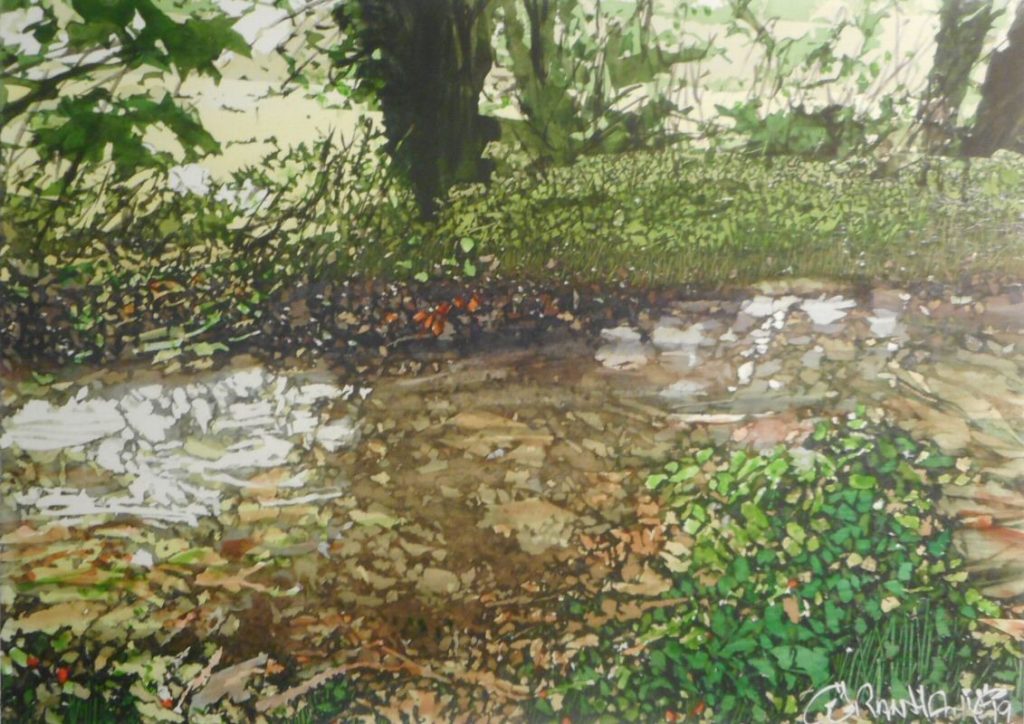 'The River Tarrant, Tarrant Crawford' is a beguiling watercolour full of light, movement and detail. Can you tell us more about your use of watercolour and the development of your technique?"
I love to paint water – sea, rivers, lakes, ponds and waterfalls. I really enjoy the challenge of capturing the waves and ripples, the reflections and the way light plays on the surface. I achieve these effects using a technique I have developed over many years which involves watercolours and small pieces of adhesive tape, which I cut out using a scalpel, to block colours in sequence.
I developed this technique as a young man. My great love was to travel round the Swedish archipelago in my small boat and to paint the water, islands, harbours, boats, etc. I soon learned that oil paints were not very practical on boats but I wanted to achieve clear definition and realism in my art which is hard to accomplish with watercolours. Using the adhesive tape I was able to produce paintings which were alive, detailed and realistic. I've continued to use this technique for many years and it is still my preferred way to paint. This is one of my favourite spots on the River Tarrant where we sometimes take the dogs to walk and paddle. It's beside a delightfully tiny church and surrounded by trees and fields – a wonderful inspiration for an artist.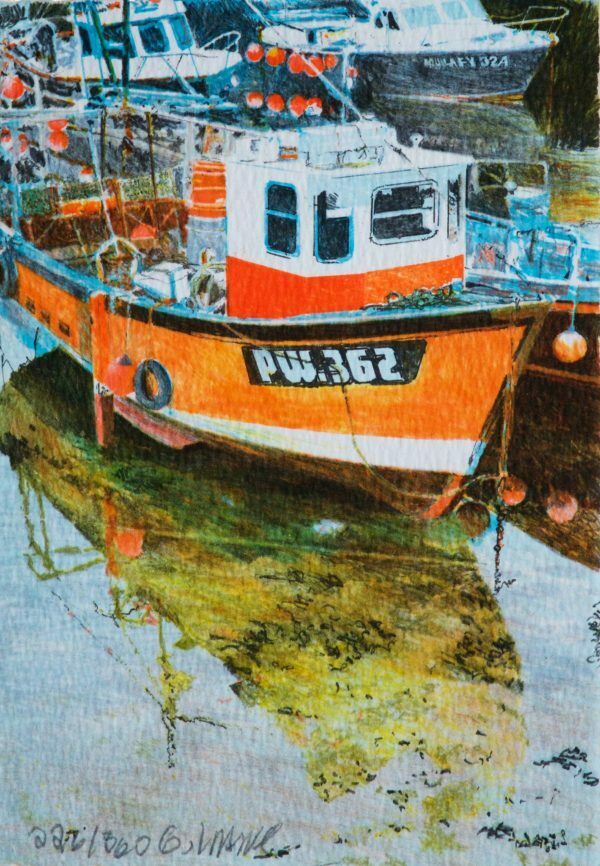 Your vibrant lithograph 'Fishing Boat, Padstow' is full of colour and subtle reflections. Can you explain more about the lithography process and the creation of your lithographs?
Cornwall is a magnificent county for an artist who likes to paint harbours, boats and the sea. The south coast has numerous attractive fishing harbours but, on the cliffy north coast, Padstow is like a harbour oasis! Imagine my delight at finding this brightly coloured fishing boat just waiting for me reproduce it on paper!
The word "lithography" comes from the from Ancient Greek lithos, meaning 'stone', and graphein, meaning 'to write' and was invented around 1796 in Germany by an otherwise unknown Bavarian playwright, Alois Senefelder, who accidentally discovered that he could duplicate his scripts by writing them in greasy crayon on slabs of limestone and then printing them with rolled-on ink.
I have always had an interest in this original technique. The image was drawn in reverse and a separate drawing had to be created for each colour to be printed. Afterwards, the stone was dampened with water, which was repelled by the greasy medium wherever the artist had drawn. Then the stone was inked with a big roller loaded with oily ink which adhered to the greasy areas but was repelled by the wet bare stone. The paper was then pressed to the stone and the ink transferred to the paper. Around the middle of the 20th century a cheaper and more convenient technique was developed where the artist drew with black ink on a specially prepared film and the colours were printed, still one at a time, using an offset machine.
I saw modern lithography as an excellent way to produce several copies of a work which would stand the test of time and not fade. I started with black and white lithographs and then moved to colour, usually 16 colours, sometimes more. Over a period of thirty years I have produced at least 600 different lithographs. I worked with the same printer during that time and learnt a great deal about colour and printing techniques.