ARTIST OF THE WEEK JEAN MINTOFT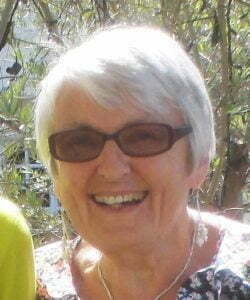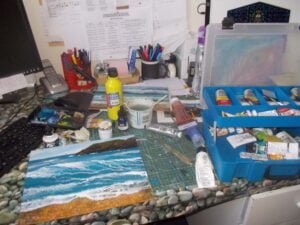 What inspires your work?
I have always been inspired by colour, the richer the colours, the better, which is perhaps why I love the colours of summer in the south-west! In addition, the contrast between light and shade fascinates me, and especially when there is a very dramatic contrast such as at dusk when the sun is setting over the sea and light is being reflected in wet sand and in rock pools. I am fascinated by sunset skies and clouds, by flowers with their riotous colours, picturesque harbours and coves, all of which can be found here in the south west. I also find beauty and fascination in lonely moors and ruined mines… and I have even done a painting of a motorcycle engine because of its elaborate shapes, colours, reflections and sheen! Animals too, most frequently dogs, can be a source of inspiration, mainly when there is an element of mood, humour or character involved.
An interest and appreciation of the beauty all around us is common to very many of us. For myself, I am a Christian, and I see all this beauty and drama as a reflection of God who created it all, and I aim to show something of the glory of God in all that I paint.
Has your choice of medium changed or developed over time?
For very many years I painted almost exclusively in pastels, largely because it suited my detailed style and I was competent at using pastels – I sometimes tutored pastel sessions for local art clubs in Wales where I lived at the time. But since we moved to Plymouth and especially in the last couple of years, I have pushed myself to try new things- not merely because of boredom with doing the same things all the time, but due to the sense that I needed to expand my boundaries of expression- to stretch my wings, as it were.
I now paint mainly in acrylics, whether traditional acrylics, fluid acrylics or inks. I feel it is very important for me to be continually developing and changing in order to keep my work fresh and interesting. I now vary my styles of painting, from detailed pieces, such as "Poppies at Sunset" and "Polperro Harbour" to semi-abstract work such as "The Lighthouse" and "Dartmoor in Bloom". I have also frequently used texture in more recent paintings, such as "Mount Edgcumbe" either by using found materials such as grasses, seeds, sand, sawdust, tissue paper or even texture pastes.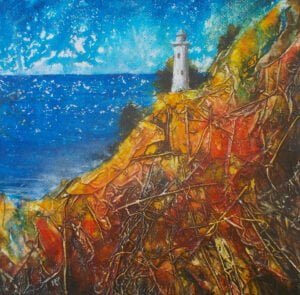 Your semi-abstract work "The Lighthouse" uses acrylic inks, acrylic paint and found materials. Tell us a bit about working with these materials.
Working in acrylic inks is great fun, but you cannot control the results. Hence it enables me to take far more risks than I would normally take! The inks can be dropped onto the canvas or board, and water sprayed onto them, then the board can be tilted to and fro. This gives fascinating but unpredictable effects- too much water and dirty puddles can form, too little and the effect is static and uninteresting. With just the right amount of water sprayed onto the inks, wonderful patterns can be generated. The inks can also be blown about through a straw, spattered and manipulated with a brush or other implement if necessary. I have discovered that drying time between each layer is essential if I don't want a muddy mess! The addition of found materials adds to the unpredictability of the whole process, but definitely adds both depth and interest to the finished piece.
Tell me more about your impressionistic work "A Blast from the Past". Why did you choose to use this technique?
Only a few months ago on a visit to a local tourist attraction, I saw a colourful loose painting by an artist from the south west and decided to try and paint in a similar way. In fact, I don't think his work can be described as pointillist at all, but that's what mine turned out to be when I tried it! The scene was one which I had previously done in watercolour and I didn't like the result, so I felt I had nothing to lose by trying the same scene in this new technique. I found it really suits me because it is bright and lively, and it prevents me from getting bogged down in detail (something I naturally veer towards, but try to avoid!). Firstly, I cover the canvas with red paint and once it's dry, I gradually apply dabs of other colours to define the image. I enjoy painting in this style because I find it very liberating, especially so on a large canvas. Where detail is required, this technique would probably not work, as it is essentially impressionistic, but having done several smaller paintings using this technique, I have found it works well with many types of landscape. I feel "A Blast from the Past" worked well because of the wildness and drama of the setting; strong contrasts of light and shade are very effective in the pointillist style. A more recent large painting "Haytor in Summer" was painted in the same style, and using this technique has prevented me from falling into the "pit" of detail, yet has retained a sense of colour and drama.
You often depict animals such as cats and dogs in your work. Do you draw from life or use photography to create these works?
That's an easy one! I use photographs because it's almost impossible to complete a finished painting from life.
"Poppies at Sunset" is a very striking work, full of strong colours and contrasts. Tell us more about this work.
"Poppies at Sunset" is my favourite painting in my Art Gallery South West shop. I was inspired by a photograph taken by someone else (with permission), though I did make some changes. Consequently, I do not know its exact location, but I think it may well be in the south west. It was partly the drama of the sky which attracted me, but the fact that the poppies were backlit by the setting sun was also particularly intriguing. I worked on the sky and some of the middle ground with palette knife as well as brush, and much of the foreground and middle ground is covered with spattered paint. I decided to define the dominant poppies detailed by painting their backlighting clearly. I think this is what sets this painting apart from others. If I had room in my house to hang any more paintings, I would choose this one!
Tell us about a piece you are currently working on.
At the moment I am working on some paintings using acrylic inks. I usually work on several at a time so that whilst allowing sufficient drying time for each stage, I can add another layer of inks to the next one. After the first couple of layers of ink, I decide what subject the colours suggest to me, and work a little more deliberately on the image from that point- I have almost completed a couple of pieces which depict hedgerows with flowers and grasses, plus one underwater scene. Needless to say, this is a much more abstract approach than my usual painting, and quite a challenge – which is always a good thing!
See more of Jean's work at https://www.artgallerysw.co.uk/vendor/jean-mintoft-artist/