ARTIST OF THE WEEK ANGIE SEAWAY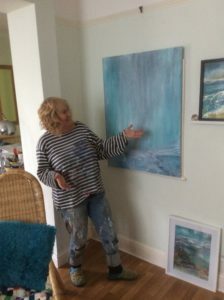 Angie is a well known artist in Exmouth who runs her own Gallery.
What was your route to becoming an artist?
My mother has OCD tendencies and my father believed creative subjects were a waste of time,so as a child I was never allowed or encouraged to be creative. Art found me as a student when I discovered that even though I was meant to be studying a different subject altogether I couldn't keep out of the art rooms…..but it took me another decade to actually enroll on an art course and then to go onto to study Fine Art at Plymouth.
The changing weather of the British Isles is a recurring theme of your work. What draws you especially to this subject?
I love the British obsession with the weather! Having travelled a lot around the world I have realised that's what it is! Of course being an island nation we are justified…..I love reading weather forecasts and listening to the beautiful litany of the Shipping Forecast so it seemed perfectly sensible to adopt actual pieces of the forecasts as titles to my paintings.
Your paintings are created outdoors"en plein air", What unique aspect does working outdoors bring to your work?
I begin every piece outside in order to capture the vitality and true essence of the scene…..When I begin I'm trying to describe what I'm looking at but also record my response to it….it is this dialogue I'm attempting to include in my work.
Can you tell us about your painting "Dry today with broken Cloud", how did you build interest and texture in this piece?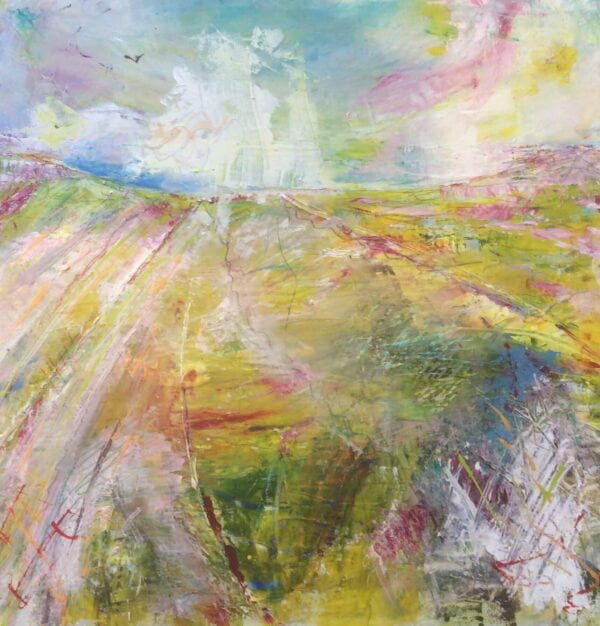 Dry today with broken cloud….this painting began on a trip back from Kingsbridge across the southern edge of .Dartmoor. It was a Spring day with the promise of summer and I wanted to catch that with the colours used in the work. Texture is created as each layer goes on and paint is applied with a palette knife in an impasto style.
What comes first the work or the title?
The place comes first with the weather!….then the work ….then the title!
In Vintage blooms we see a shift in subject matter. Can you tell us more about this piece and your inspiration for it?
Vintage blooms was from a collection of paintings I created using hand painted antique wallpapers as a theme. As an artist I wanted to push myself by using a strict limited palette in order to create paintings that would be soothing and quiet for people to seek solace with in otherwise busy lives.
Mist and Fog patches will Clear is a romantic soft image full of movement. Its muted palette of blues and greens suggests a sea mist over the ocean. What techniques do you use to create this effect in your work?
Mist and fog patches will clear…..with this work I wanted to play with the effect of the diffused light and its effect on the landscape….
How do you see your work evolving in the future?
Living just minutes from the East Devon coast I can see that there will be an endless subject matter evolving under my very nose……so the paintings will find there own way into being! I'd love to paint huge canvases and also explore paintings as sculptures in the sense that they exist in the landscape they are painted in. So weather proofed and then hung out either on a pre existing wall or a specifically erected all weather easel….encouraging viewers to explore for themselves the dialogue between the painted response and the view….with lots of selfie potential thrown in!
I also teach both painting and printmaking from my studio in Exmouth….courses last for 8 weeks and are a balance between taught content and time for each participant to explore their own creative path…..in a safe and supportive environment..suitable for complete beginners or experienced artists.
To see more of Angie's work https://www.artgallerysw.co.uk/vendor/angie-seaway/