ARTIST OF THE WEEK DAVID ROBINSON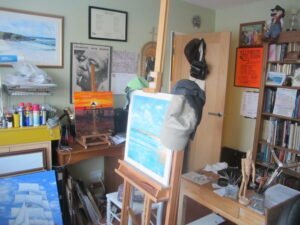 David has lived in Clevedon in Somerset for many years.
We asked him about his  route to becoming an artist?
 I grew up surrounded by the natural world and its wonderful shapes and colours. A love of nature has stayed with me throughout life. My parents were both artistic, so seeing their work and having their genes helped. I enjoyed art at school, but was never really inspired by the lessons and ended up in science.
I worked in Clinical Science laboratories in Sheffield and Bristol for thirty three years qualifying as a professional photographer, – LBIPP, -and taught students and people on youth opportunities schemes, – photography.
In the 1990's I became ill and was diagnosed with M.E. which caused me to take early retirement and give up performing rock and roll, – my main career. This was when I realised that I had time to take a bigger interest in painting.
Playing various types of music in the nineteen – sixties introduced me to Psychedelia, which is one style that I have adopted since then. Other work is Impressionistic, though the bulk of it I would call Photorealist.
Your work encompasses a wide variety of styles and subjects.  Can you tell us about these?
I paint in various mediums, watercolour, gouache, pastel, watercolour pencils and have done airbrush work with De Vilbiss airbrushes and acrylic inks, also on the screen of an IPad using Apps 'Procreate' and 'Brushes', – painting simply using my right forefinger and a stylus. I have also completed a course in etching and engraving. I now specialise in oil painting and work in the same way as many Renaissance painters – blocking in the dark colours first, then bringing in increasing detail gradually as the colour get lighter, ending with white highlights and the finest detail.
'Red Admiral butterfly' – painted with my finger on an IPad screen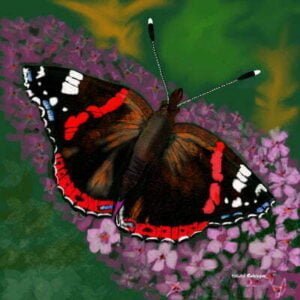 Your oil painting 'Adelaide House and Garden-the Beach, Clevedon' is highly detailed in its treatment.  Can you tell us a bit about this choice of subject, your technique and your creative process?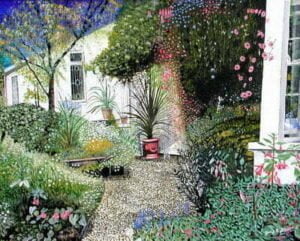 I love painting atmospheric, photo-realistic landscapes/seascapes, especially of the wild, surf-splashed coastlines of North Cornwall and Pembrokeshire.
Adelaide House' is an antique shop along Clevedon's beach, I have always admired the informal structure of the garden there and felt that I would like to paint it, – working from photographs.
It is a classic example of working from dark to light and using an almost psychedelic, heightened detail style.
'Changes of Season' is an abstract work depicting the flora of the natural world in the abstract style termed Psychedelia. Can you tell us more about this branch of abstract art?
'Changes of Season' was inspired by the work of Isaac Abrams an artist from sixties psychedelia.
Artists then often took mind altering substances in order to get an enhanced view of subjects almost at the 'molecular level', also heightened colour vision. There were many however who had the insight and imagination to paint similar scenes without the help of drugs.
How do you go about choosing the most appropriate style for a particular subject?
I spend time sketching out ideas, often with watercolour before doing the main picture, eventually the style to use unfolds itself to me. In the case of commissions clients want me to paint a recognisable friend, family member or pet, maybe even a house or car so these are generally photo-realistic.
'Party on Black Marble-Crayon and Gouache' depicts an array of drinking glasses.  This is a challenging subject matter to paint, as you need to capture both the solidity of the object but also its transparency. How did you manage to achieve this delicate balance?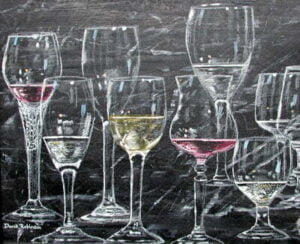 "Party on Black Marble" was a challenge at first, and I tried various methods of painting. In the end I painted a black gouache background to which I added the grey marble effect. When it was dry I placed the glasses on a table with a black tray behind them. I then simply drew them on the 'marble' using a sharpened white coloured pencil. Finally I painted in the drinks with a light wash of gouache.
Can you tell us about a piece that you are currently working on
At present I am painting an oil of Clevedon Pier at sunset. Our pier will be 150 years old next year (2019). There will be lots of celebrations. The painting is 406 x 406mm and on canvas board.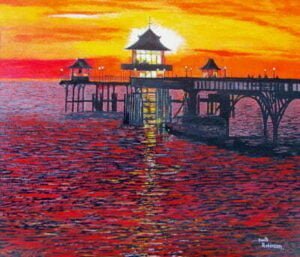 Is there a Particular technique or style that you would like to explore in the future?
In the future I would like to do more pastels and further develop the Psychedelic style, also do lots more commissions working closely with clients to produce their own special picture!
I do not have any exhibitions booked at the moment.
A picture  'Creation' –shows the diversity of life as depicted through First American sculpture and Jewellery.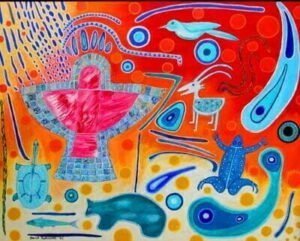 See more work on Art Gallery SW website https://www.artgallerysw.co.uk/vendor/david-robinson-artist/
See David's website http://www.robinsonart.co.uk