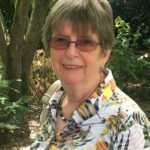 Jill Preston
I did not take up painting seriously until I retired.
At that time, I attended a college drawing course and several adult evening & day classes but mainly worked to develop my skills without formal tuition.
I work in acrylics, mixed media and watercolour.
Those who know my work, know that I have always been keen to explore new subject matter, different techniques & fresh methods.  I have always preferred not to develop  a 'style' but rather to explore these new avenues to see where they might lead me.
However, bold colour, strong lines & shapes remain constantly recognisable elements in my paintings.
During the Covid epidemic I completed two series of paintings, one entitled Canopy and the other, The Ground Beneath My Feet. These were inspired by the new opportunities which arose to explore my local natural environment in a more leisurely fashion.
Now I can again continue with my original aims to develop my own impressionistic interpretations of my favourite subject matter - the landscape, coasts & harbours of the British Isles.
However my fascination with abstraction continues to attract and excite me. There is the ever present desire to use my creative skills to capture, through abstract works, my innermost feelings  - whether they be of disappointment, anxiety, anger, hope, happiness or love. This is my constant challenge because when I feel I have had some success, I am immediately led down another branch of the same path. The notion that I may never reach my goal is the  inspiration that spurs me on and is also at the heart of my determination to continue.
T: 01935 47184  M: 07421 450272
£

145.00

Ham Hill in Summertime Medium – acrylic painting Size – 50 x 50 cm Framed Ham Hill is a popular & historic beauty spot near Yeovil, Somerset