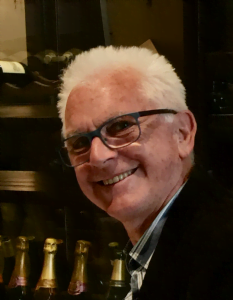 Whether it is the grand "sik" entrance to Petra, egrets on the Nile, the intensity of flamenco in Seville, the Al Hambra Palace by moonlight, pelicans in Regent's Park or many views of the Glastonbury Tor, Peter gives a special vision to his bold interpretations in watercolour. His four coffee table books, some with prose and poetry by others, have been well received and reviewed have given broad exposure to his work, much of which can be viewed on his website. He is currently working on a new book, "Impressions of Andalucia" with award-winning writer Linda Decker.  Best-selling authors Victoria Hislop and Chris Stewart are contributing to the book which will feature written impressions of this beautiful region of Spain alongside Peter's watercolours.  It will provide unique insights to appeal both to residents and tourists.
Peter has travelled widely and after a strong focus on the Arab world and Eastern Mediterranean,  has now settled in Somerset which is proving to be a rich inspiration.  Peter has exhibited with Somerset Art Works for the last five years.
Peter has had many solo and joint exhibitions and his works are displayed in homes, offices and hotels both in the UK and overseas. He has donated paintings, card images and book proceeds to a variety of charities over the last two decades.
Sale!

Art Gallery SW is pleased to offer this lively book of paintings, poetry and prose on the theme of building bridges, not walls, in its Christmas sale at half its retail price.    The book was conceived by Piltonian artist, Peter Lawrence, who worked on the concept with talented Pilton writer and poet, Lorraine Wright,…