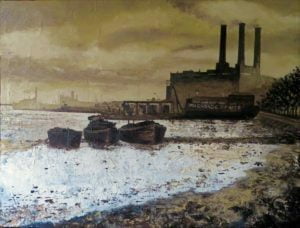 New Painting: 'Coal barges – Battersea'
Oil on mdf 18 x 24 in. Unframed.
Coal Barges Battersea was inspired by an old magazine clipping of black & white photograph (A Thames Sunset – Donald McLeish 1879-1950).  I am very much influenced by Neo – Romantic themes of timelessness and Spirit of Place' so it interested me greatly and I decided use it for a new painting. For this, I decided to reuse and paint over a an old painting, which I prepared by sanding down, scraping back before priming, which I thought would enhance texture.  In order to create a sense of the sublime and timelessness I decided to keep it monochrome  using just 3 colours: Van Dyke Brown, Warm grey and Titanium White painting with brushes and painting knives.
This painting is at present Unframed but can be framed on purchase if required, please ask for quote.