FEATURED ARTIST OF THE MONTH : PETER LAWRENCE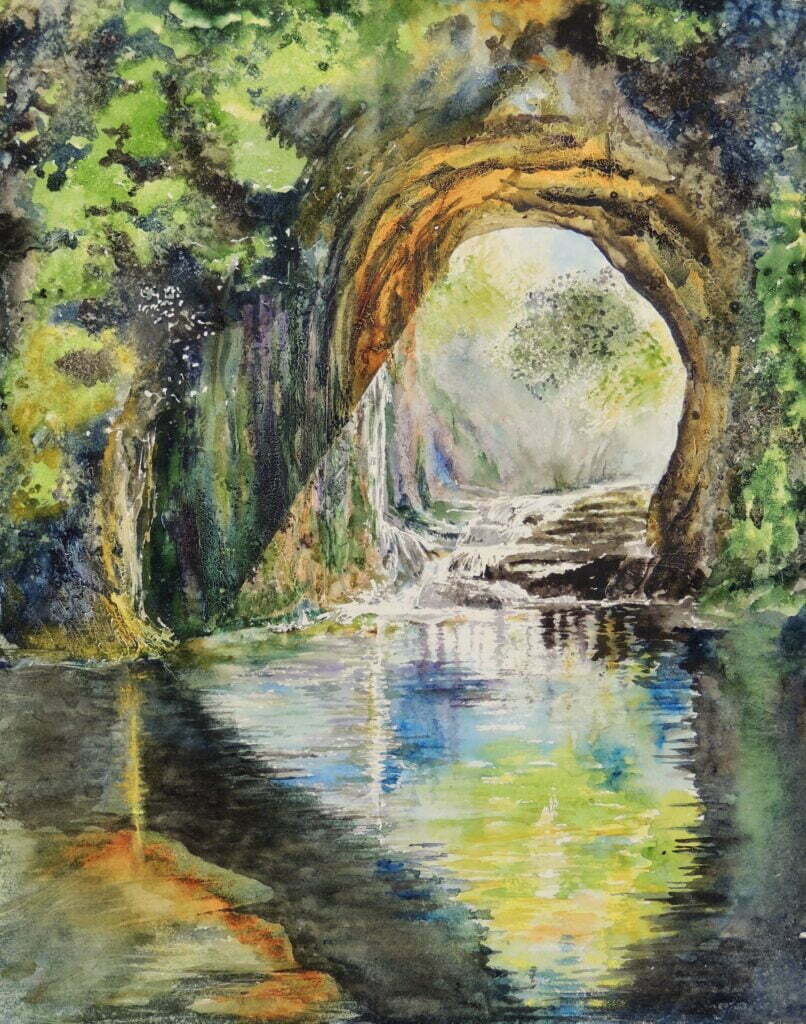 "Nature's Doorway 11″
Can you tell us about what inspires your watercolours and how you go about creating them?
Most of my painting is done in the studio using photographs, my own and from the Web, as reference material. My watercolours tend to be bold and I am very inspired by the West Country artist, Michael Morgan, who famously said he painted about the landscape rather than the landscape itself. I often, therefore, interpret the scene and focus on a product which people would like to see hanging on their wall.
Nature's Doorway II was my demonstration painting in a watercolour workshop. I had downloaded a dramatic photograph which somebody had posted on Facebook and showed the participants how to texture the paper with gesso, to mask areas which are to remain light, to allow the pigments to flow and merge into the wet surface and also to use clingfilm and salt to create interesting effects.
I started to paint Eilean Donan Castle "en plein air" at the site but then took my memories and many photos back to the studio and enhanced the drama with a lowering sky.
"Eilean Donna Castle"
Can you share with us what types of paper, paint and brushes you favour?
I favour textured NOT and rough papers and have become particularly keen on the Two Rivers company's handmade papers which are beautifully produced by very traditional methods. They are treated with size which allows wet-into-wet techniques and a degree of flexibility to lift and re-apply. Dreamy Sunrise and Snow Race are good examples of the use of this paper. With the former, I had been asked to demonstrate to an art group and so took the paper along with some texturing and masking already applied so that we could focus on the drama of applying the colour. I use only professional quality watercolour paints and have tried many different manufacturers. I have a basic palette of six colours but a collection of about 30 other colours I have been tempted to purchase with some such as Sepia and Indigo becoming staple favourites for adding depth and drama. I try to use natural brushes and there is no doubt that a good quality Kolinski sable brush cannot be bettered, but they are very expensive. At the other extreme I achieve effects with sponges, sticks and sometimes by adding salt or sand and brushing away when dry.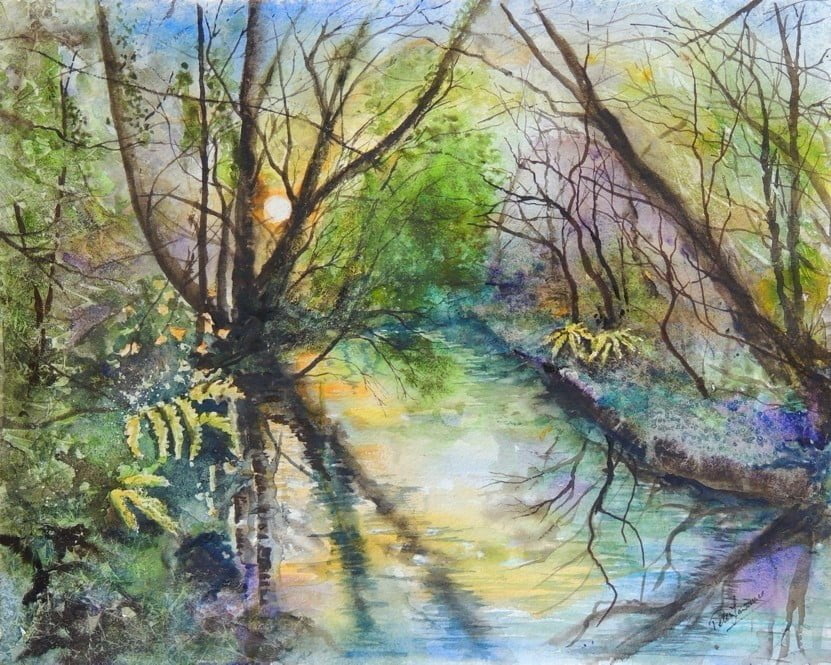 Was lockdown an opportunity to focus on any projects?
Yes indeed, as well as three commissioned paintings which I completed, I had already embarked on a project with an award-winning writer friend to produce a book, Impressions of Andalucía. This is a journey in written word and paintings around this beautiful part of Spain and includes contributions from best-selling authors, Victoria Hislop and Chris Stewart. This will be the fifth publication of my art. Lockdown has enabled me to finish the 75 paintings to be included. We have a publisher who is keen to launch in Spring 2022 and we are currently seeking sponsorship from companies/individuals who can benefit from acknowledgement in the book.