Welcome to the February newsletter. This month we focus on nocturne art but first let us tell you about a change on the Art Gallery SW website.
You can now try artwork before you buy

A new feature on our website now means that with augmented reality you can now see artwork on the website in your own home before you buy. Just click on any artwork on the site, you can try it on the paintings in the newsletter to try it out.
Nocturne art.

Nocturne paintings are mesmerising. They are illuminated either by a direct light source, the moon or an artificial source of light that reflects off the subject.

The name of the style was first coined by the artist James Abbott McNeil Whistler. The term was later used more broadly applied to any painting that depicted a night scene.

This type of painting is challenging. It requires understanding and skill to capture changes of tonal value and colour.
"Eventide" by Pam Hutchings
Pam Hutchings
Pam's dramatic pastel painting Eventide captures the view from Instow over the Torridge Estuary. Her bold and expressive style is well suited to capturing the riot of colour as the sun sets heralding the coming of the night.
"Moonlit Acer Tree" by Denise Orchard
Denise Orchard
Denise has skilfully captured the direct light of the moon upon the Acer tree. Here the tonal values are exceptionally light with muted de-saturated colours.
"The Night is Mine" by Alexandra Lavizzari
Alexandra Lavizzari
Somerset based artist Alexandra is inspired by nature. She works mainly in pastels as well as natural materials such as feathers, petals, seaweed and mineral pigments. Her work explores the interaction of form and colour to create a particular mood.

The painting's dark brooding night sky contrasts dramatically with the ethereal form of the barn owl whose direct stare and elevated position leaves the viewer with no doubt of his command of the night.
"Red Night" by Jill Preston
Jill Preston
In the striking painting Red Night we can see Jill's characteristic use of strong line, shape and bold colour.

In recent years Jill has moved away from more figurative work towards more Impressionistic and abstract representations.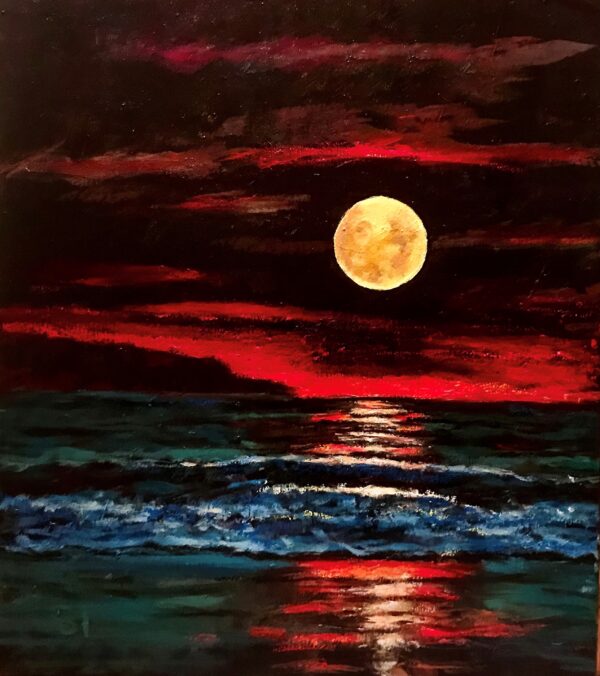 "Rising Moon, Setting Sun" by Shaun Byatt
Shaun Byatt
Shaun works intuitively creating paintings full of vibrant colours. He often paints scenes that are personal to him.
Here the sky is ablaze, a blood red sunset dominates the sky as the moon appears centre stage. The moonlight and the red of the sky are reflected upon the sea and breaking waves below.
LATEST NEWS
Lastly we have introduced a new feature on the Art Gallery SW website which is our new exhibitions for our featured artists.
You can get our newsletter on latest art's news here.