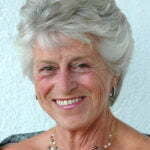 Val Webberley
I was originally inspired by a book of paper collages, immediately wanting to do something similar in fabric and stitch.  I taught myself various techniques from machine embroidery books and I was encouraged to enter a national competition in 1999 at Olympia in London where my first picture won an Award of Merit.
My inspiration comes from many sources; personal travel, photographs, fabrics themselves, other media and some are totally imaginary.  I have been experimenting for a few years with a choice of painted or drawn backgrounds before totally embellishing with stitch on fabric
Nothing is sacrosanct or taboo, recently a cleaning cloth was the exact shade for a sky and photographic film provides wonderful prisms of light.
I have lived in Dorset for nearly 18 years now but previously have lived in Hampshire,, Cheshire,Italy, Austria, Berkshire, Ireland and London and Surrey.  My father was in the Army and we moved every few years!!.
I have exhibited both alone and with other artists and am constantly trying to diversify my work and find new ideas.  I have undertaken a number of private commissions.
Contact details.
Telephone. 01258 860470.
Email. [email protected]