Hello to December and our final newsletter of 2021! This month we will be showcasing a selection of still life works.
But first, Jan Underdown's cheerful depiction of a robin.
Robins are often thought to be associated with the festive season. Here are a few thoughts put forward as to why. The Victorian period saw a newly created postal service. Postmen were nicknamed 'robins' for their uniform of a red waist coat. Robins may also be associated with the festive season as at this time of year their numbers are far higher with migrant robins joining our native birds.
"Gardener's Friend" by Jan Underdown
Jan Underdown is based in Dorset and is inspired by the landscape and wildlife of this area. This robin is painted in acrylic on a abstract background created by using an acrylic flow technique.
Still Life

Still life as a subject covers anything that does not move and is dead. Objects can be manmade, or natural and popular traditional subjects include fruit, cut flowers, vegetables, game and wine.

This type of art has long appealed to artists but did not become a subject in it's own right in Europe until the 17th century and even then it was considered lowly as it did not involve human subject matter.

Later artists such as Paul Cezanne and the cubist painters used simple still life arrangements for exciting experiments of form
"Orange Fish" Becky Pascoe
Becky Pascoe paints mainly in acrylic. Here she has taken the still life subject and semi abstracted it. Her work is full of energy featuring a strong linear style and high colour palette.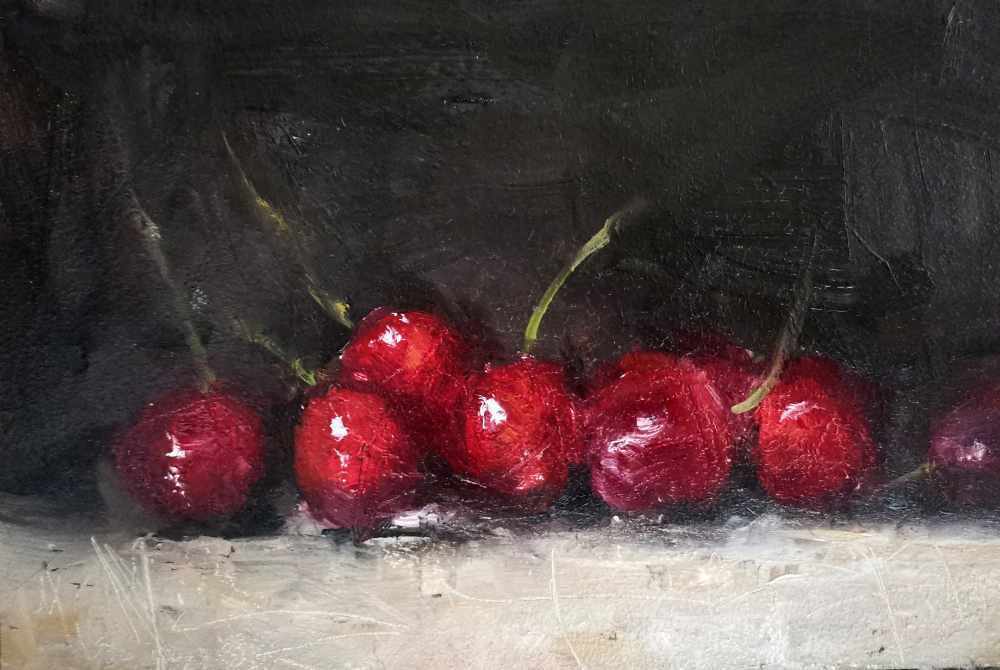 "Cherries" by Paul Strydom
London based artist Paul Strydom creates still life paintings in oils. His style is loose and impressionistic with a naturalistic palette. Work is inspired by everyday objects such as fruit, pencils and bottles and jars.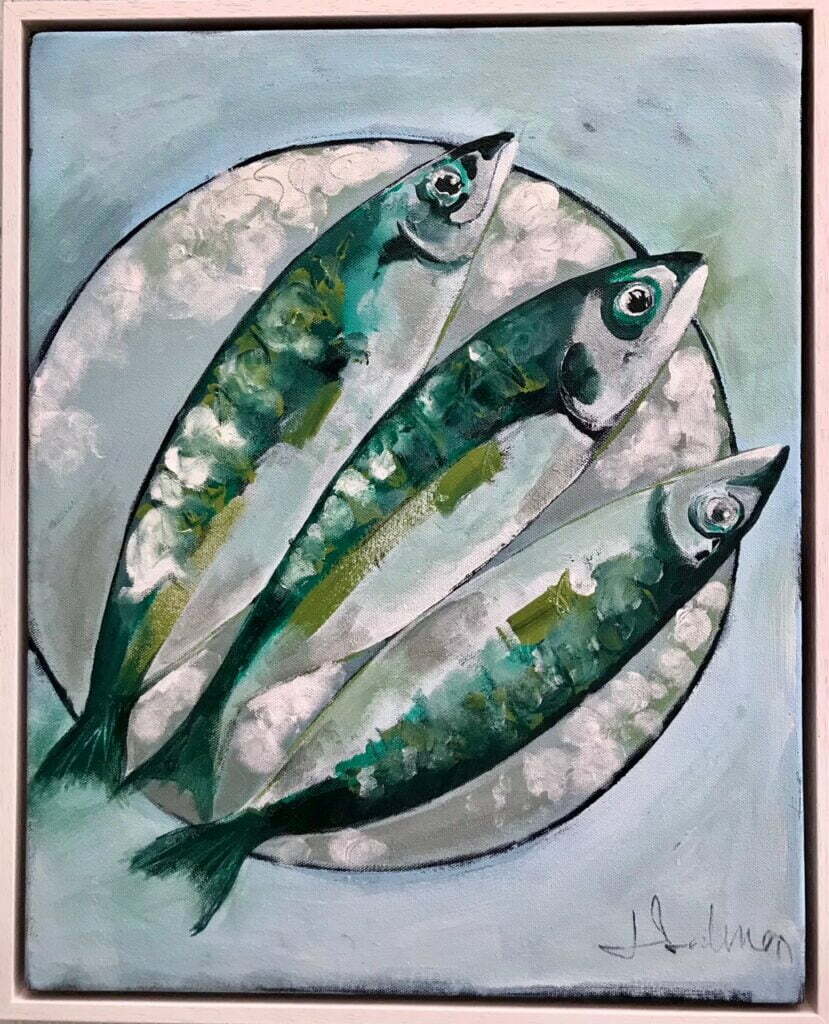 "Three Mackerels" by Jo Salmon
Jo is influenced by the Cornish art movements. Her background in design is evident in the strong composition of this painting. Painted in acrylic in a bold style. Her use of a restricted palette creates a harmonious balanced, yet striking painting.
"Garlic on a board" by Sue Smith
Sue's first love is watercolour, however she creates works in pastel, oil and mixed media. She often depicts subjects such as the landscape, still life and flowers.
"Sally's Pebbles" by Paula Broadman
Paula is a Wiltshire based artist who is inspired by her love of the outdoors, the British weather and the beach and sea. She paints a variety of subjects from still life to animals and birds.
"Whisky Galore" by Jackie Gale
Jackie is a contemporary textile artist who is known for her illustrative textile work.
Her pieces combine colour, texture, fun and a narrative element as seen in works such as 'Whisky Galore'. In addition to her drinks pieces Jackie also depicts vibrant floral subjects and colourful sea scenes.