LOUISE HOLMAN : FEATURED ARTIST OF THE MONTH
"What appeals to you about Abstraction as a style?"
I like to work from observation, but then present my own ideas & feelings for a place through layers and textures that pull away from the original representational reference points. My work is generally based on a landscape or seascape where the original form has been simplified. Regular use of geometric shapes or gestural marks is also commonplace, giving me the freedom to create without any set boundaries.
This is the essence of my interest in Abstraction.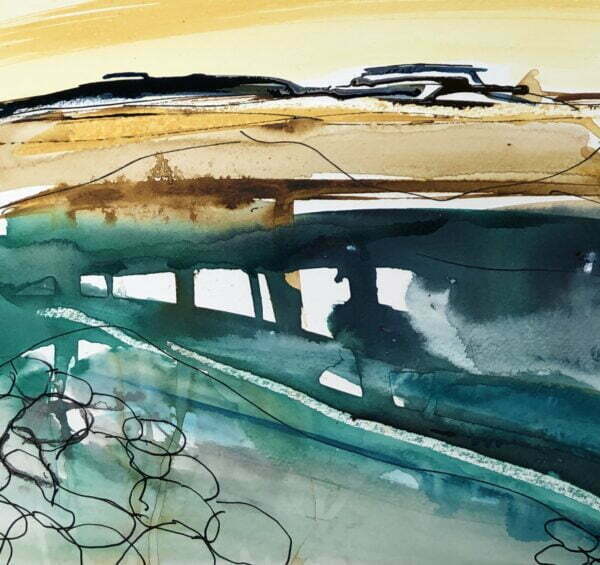 "In 'Moorland Reflections' you use acrylic ink & pen on watercolour paper. Can you tell us more about your choice of media and it's benefits?"
I discovered acrylic inks almost by accident but instantly fell in love with their vibrancy, fluidity and versatility. I generally only use Hot Pressed/Non Textured Watercolour Paper with them as the smooth texture enables the ink to flow much more freely.
I work fast with these inks, using a pipette first & then moving onto a brush only if required. I lift and move the paper around to let the inks flow, creating an immediacy that works well for my style. Pen work detail is added at the end, generally in the addition of geometric shapes which echo my interpretation of the landscape.
" Tell us more about your painting 'Beneath The Sea' and what inspires your work?"
My work is inspired by the local coast and countryside… the open vistas of Devon's Coast Path, as well as Dartmoor National Park. My continuing interest in abstract art lies in its ability to inspire my curiosity to push & challenge the boundaries of my imagination.
I wanted this particular work to move beyond the often more pleasing or sanitised interpretation of a typical beach painting. I particularly like the use of geometric shapes here to depict the depth of layers that lie beneath the surface of the sea.