Welcome to our latest exhibition newsletter bringing you information on our current online art exhibition.
The exhibition has an exciting and changing selection of works and is fundraising in aid of South West air ambulance charities. It brings together over 80 contemporary, emerging and established artists and will be viewable online until 31st December.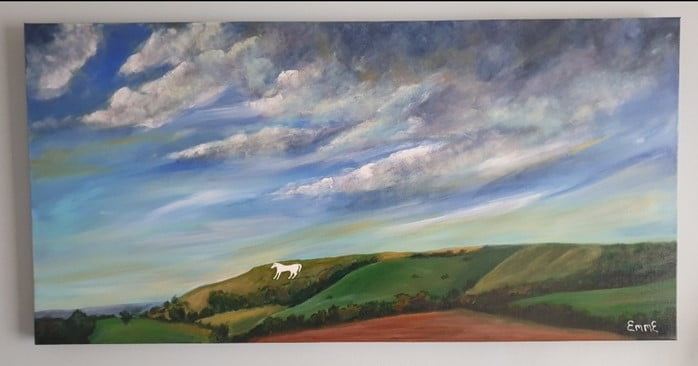 "Westbury White Horse" EmmE Art
Wiltshire based EmmE Art works in oil paint. She is inspired by the beauty of the Wiltshire landscape and it's ancient monuments.

'Westbury White Horse' depicts the famous landscape of the Bratton Downs, with it's celebrated Iron Age Hill Fort and distinctive white horse landmark. The horse is thought to have been cut into the chalk 400 years ago.



"Wildflowers" Fiona J Forbes
Fiona's work is influenced by the work of the Scottish Colourists. She works in a wide variety of media from: oil, acrylic, watercolour and mixed media.

In 'Wildflowers' she uses the palette knife skilfully, giving her work a loose and distinctive Impressionistic style.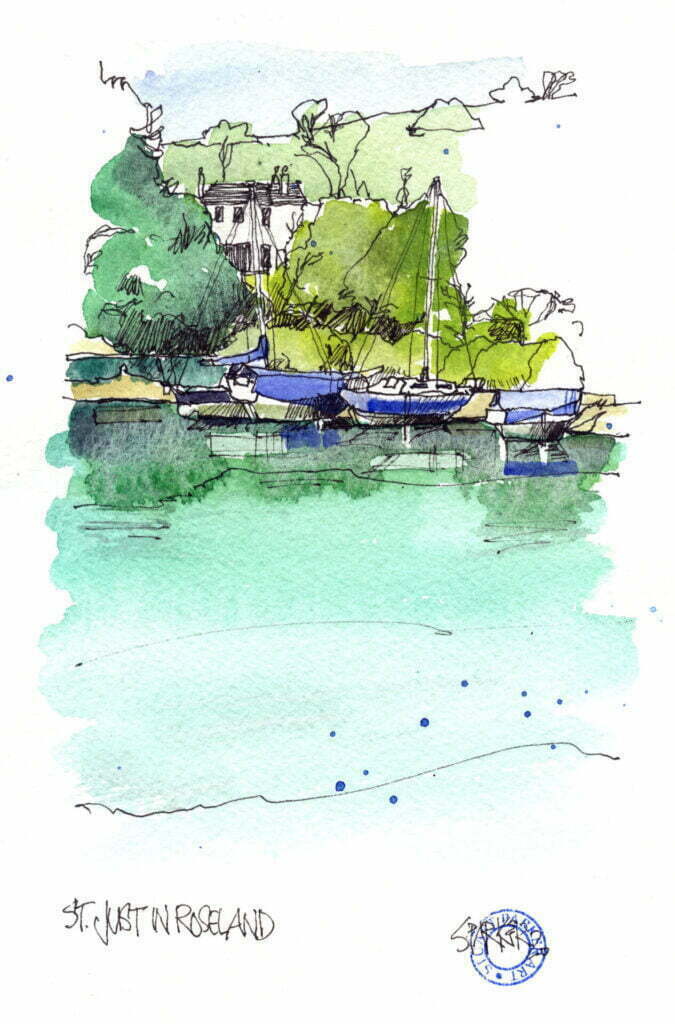 'Cornwall Sketches St Just in Roseland' Stuart Parker
Stuart is inspired by a wide range of subjects from wildlife, boats, landscapes, seascapes, still life and botanical subjects.

'Cornwall Sketches St Just in Roseland' is available as a signed limited edition fine art print. Reproduced from an original sketch captured in pen and watercolour wash.

Stuart's pen and wash studies are keenly observed with an energy and simple charm.
'Rocks and the Ocean' by Belinda Reynell
Belinda is an award winning landscape artist. She is drawn to the abstract.
'Rocks and the Ocean' is takes it's inspiration from the wild beauty of the Cornwall coast. Belinda has been recently 'drawn to the sea…as a therapeutic place to be'.
This painting is one of a series of rock and sea paintings. The vivid turquoise of the sea reflects and is inspired by the celebrated light and ocean colours found in the very south of Cornwall.
Dorset artist Gabrielle Bill specialises in large scale traditional oil paintings.
Her painting 'Hosta with Flowers' reflects her love of the botanical.
'Hosta with Flowers' by Gabrielle Bill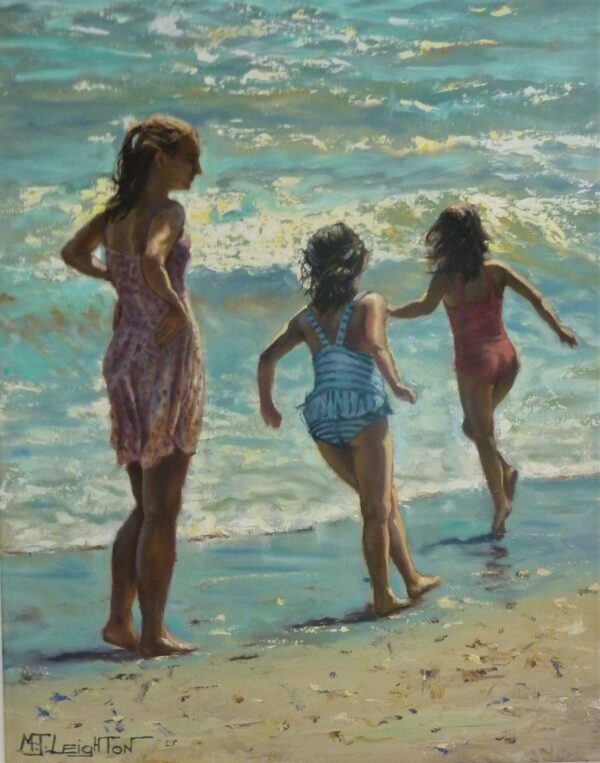 'Chasing Waves' by Martin J Leighton
Martin has a passion for portraiture and figurative work. He also paints seascapes, landscapes, wildlife as well as abstracts.

'Chasing waves' is a beautifully observed narrative painting depicting a mother and her two young girls at the shoreline. The mother's stillness and calm contrasts brilliantly with the high energy and seeming perpetual motion of her children who race headlong towards the sea.