FEATURED ARTIST OF THE MONTH : FABRIZIA COSTA
"Fabriza Costa 1"
What is the ethos behind your photographic work?
I'm deeply interested in people. I'm interested in observing people and their interaction with the environment (as in my street photography), and I'm also interested in working with people to bring them into an image that can reflect back to them the way I see them (like in my portraits). A portrait can have a deep impact on the person being photographed, sometimes it can change their life completely. Often, their confidence is boosted, but more often than not they discover parts of themselves that had been buried. It can be massively therapeutic, especially at certain stages in life like the teenage years or after becoming a mother, or in later years.
My portraits are designed around the person, from what they wear to the location we choose, and will tell their story.
"The Arrow "
Architecture is a common theme in your work, this is true of the bold and striking 'Fabrizia Costa 5'. Can you tell us more about this piece? What is it that draws you to architecture as a subject and more generally what do you look for when considering a new architectural subject for your work?
I graduated in Architectural Design, and I still love buildings. That image is called "the Arrow" I like the play of light on geometric shapes, different materials and colours, which is what architectural photography is really all about.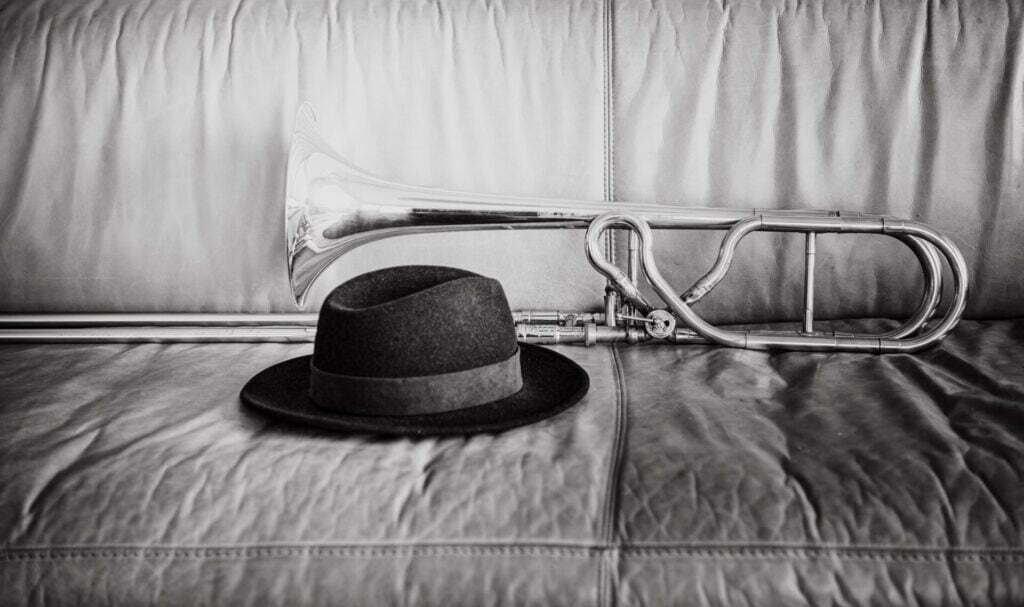 "Fabriza Costa 5"
"Tell us about your still life 'Fabrizia Costa 9'. What made you choose these objects for this piece?"
This instrument belongs to one of the most important trombone players in the world, Lito Fontana, and I took this when I shot his portrait for the cover of one of his albums. His things were just casually laying there, and I noticed that the metal of the instrument, the felt of the hat, and the worn leather of the sofa were a really good combination of materials. The black and white editing then brought it all together nicely. Just another angle of his story.
I'm a big supporter of the printed image. Printing technology has improved so much over the past ten years, people have no idea how amazing a good print can be. It's truly magical to have a large print of someone you love (or of yourself) hanging where you can see it every day, like a personal piece of art that can freeze a moment in time forever. The experience of the portrait session is extraordinary, and the result always spectacular. And a special bond is always formed with the people I photograph.
I also started a movement about printing images, it was halted by the pandemic (it will start again later this year) but you can read the manifesto at https://www.eye-witness.org/
Portraits, stories, prints… it's what helps up remember our lives.