FEATURED ARTIST OF THE MONTH: JAN UNDERDOWN
Jan Underdown is a Dorset-based artist who lives near the New Forest.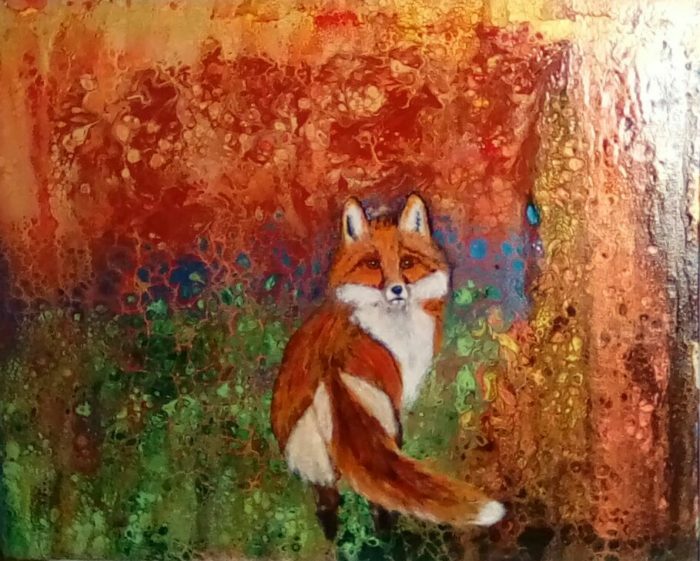 In 'Mr Fox' you use an abstract acrylic flow background. Can you tell us more about your use of this technique in your work and what you like about it?
Mr Fox is a very popular image – I like using a range of techniques and you can use the acrylic flow technique in many different ways to add atmosphere rather than detail and also provide a really strong colour base from Autumn colours to a Winter sky and river scenes. I am currently experimenting by using the flow technique to paint animals such as the Hare. The paint, when mixed, can imitate fur and other features and the secret is learning how to control the flow of the paint to get the results you are looking for.
What are the main influences upon your work and why?
We live in Dorset bordering the New Forest. This beautiful environment provides excellent inspiration having different landscapes, coastlines, and wildlife. Observing the effects of light through trees, reflections on water, the tranquillity and tremendous force of the sea. I also enjoy other activities including trail running and gardening which provide insights to the changing seasons and atmospheres that translate into the mood and colour combinations that support my arts and crafts
I am a self-taught artist who paints for pure pleasure who enjoys sharing ideas, learning new techniques, trying out new media. You continue to learn and develop skills and ideas by reviewing the work of others, studying other artists, YouTube videos, visiting art exhibitions and subscribing to excellent art magazines.
Art must have movement, energy, depict a mood, or tell a story, provide a connection. Art is a sanctum, an escape. It provides an environment where there is no structure, timetable, social media, pressure, intellectual thought. JUST BEING.
Many of your paintings have birds as a subject matter. Do you have a favourite species and if so why?
I have always loved to paint Robins. The Robin is my favourite bird. In Celtic mythology the Robin has a special place. When people die it is said their sprits often come back in this bird. Robins have enjoyed a special affection in Britain for at over two thousand years.