SPRING BLOOM by Victoria Meering
£105.00
original watercolour painting
original artwork on Yupo paper 42×29.7cms
contemporary artist of trees, cats and hares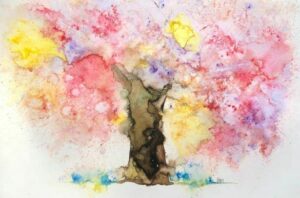 By: Victoria Meering
Description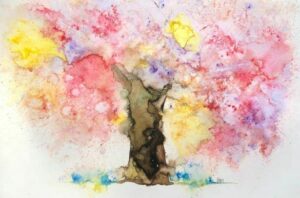 Watercolour paintings are my favourite to create. This original watercolour painting is of a beautiful tree in full spring colours. Painted using Brusho watercolour crystals on Yupo paper, the overall effect is perfect for depicting the splendour of spring. As a contemporary watercolour artist, I paint colourful pictures. All my works are original watercolour paintings that are affordable, ready to frame to become a stunning wall hanging.
All work is original and they are one off pieces of contemporary watercolour art. This means that when you purchase any of my contemporary artwork, you know nobody else has the same watercolour painting.
I became a contemporary artist because there is a fire burning inside me that compels me to give it expression. When I am making art, I am my most authentic self. Over the last thirty years, I have been passionate about art, using diverse media and subject matter. This has culminated in a love of trees, hares and cats.
My speciality is contemporary watercolour paintings that depicts trees, cats or hares. My watercolour artwork is done on Yupo paper.
When beginning a new piece of art, I allow myself to become absorbed into the work, allowing freedom of expression to flow.
https://www.instagram.com/vmeering/