https://www.artjanetdavies.com/                 To purchase follow link to my website.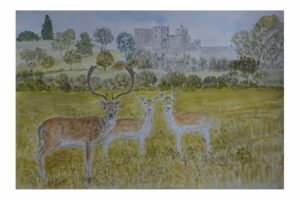 Powderham Castle, Kenton, Devon. Deer in the surrounding parkland. Make any small noise and the Doe look up, but you have to screech like a Peacock to get a Stag to raise his head, and then only briefly. Good thing I had my camera with me.
A lovely place to visit. Country walks, interesting shops, plant sales, and of course, loads of Deer to watch.