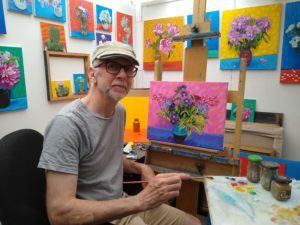 After gaining his degree in Fine Art at Newcastle Polytechnic Richard studied paintings conservation for 2 years before working as an artist's assistant for Ben Johnson in London.
        In 2009, after moving to Bath, he began working full time on his own paintings, initially drawing inspiration from his new garden, continuing to study both the flowers and the produce  from this and from further afield.
        His love of the colour and physicality of his subjects has resulted in works that endeavour to embody the vitality and vividness he recognises in the life of the organic world around us, expressed through colour, brushwork and design.
www.richardgibsonartist.co.uk