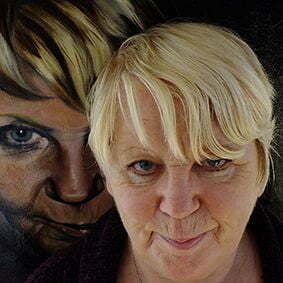 Pam Hutchings
Originally from Cheshire, I trained at Manchester School of Art and Design, specialising in Graphic Design, and I made a living practicing my profession in the UK and abroad. Nowadays, I enjoy the freedom of painting without constraints - although I am still influenced by my design background to an extent, particularly in choosing an initial composition.
My paintings are very textural and expressionistic. I make rough and bold marks using a paint brush, palette knife, roller or whatever comes to hand, to help interpret a scene. I really enjoy experimenting with unusual papers and mediums to create different effects. These mixed media pictures are characterised by their drama and strong colour contrasts.
Now, living in North Devon, my subject matter is generally dictated by the stunning landscapes and seascapes of the area, occasionally peopled with figures describing the scale or adding to the narrative of the picture. Or, sometimes, they become the main focus of the painting.
Facebook  @PamHutchingsArt
Instagram  pam.hutchings
Contact details
Email  [email protected]
Mobile 07526 854486