GRAHAME PREECE
Born and bred in Dorset , I have been painting for over 40 years and my previous careers included The Merchant Navy (6 years), The Household Cavalry (23 years) and Army Welfare Officer (15 years). I have travelled extensively and my careers have enabled me to live and work in Singapore, Malaya, East Africa and Germany.
To my mind there is nothing more challenging than portraiture. There are so many variations on the basic pattern. Every human being is such a unique and improbable phenomenon and I try to capture this in each picture I make. I work mainly in watercolour for portraits, which is a splendid medium for capturing fleeting glances and in quick drying acrylic on canvas for most other subjects. I have sold my paintings to customers from all over Europe, and some in Australia and Canada. My favourite areas of interest are Wildlife, Landscapes and Seascapes, but my subjects are very diverse and include portraits, equine and pet studies. In summer I paint in Dorset and in the past wintering in Europe; until recently holding a one-man exhibition annually in Spain.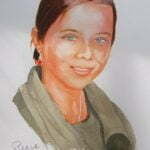 Examples of recent portraits.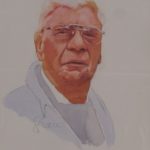 Commissions for Portraits, Pets and Landscapes are welcomed. I am a member of the Dorset Visual Arts group and regularly participate in the Dorset Art Weeks open studios exhibitions.
Email: [email protected]
Website: www.grahamepreece.co.uk