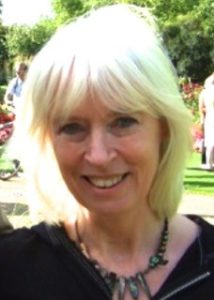 !
Chris Wilmshurst
Art has always been a passion for me and I'm pleased to say that I have been able to devote the last 15 years to both teaching adult art classes and creating my own work.
I get most of my inspiration from landscapes and townscapes around Dorset ( I live in Wimborne), and from travels further afield. I also love painting flowers, gardens and still-life. Colour is by far the most important element for me, and I have recently found myself being drawn to textures and patterns. The subjects I become obsessed with usually have a strong element of structure and pattern which I like to interpret in imaginative ways using a combination of different papers and paint in vibrant colours. An example of this would be my paintings of allotments which give ample opportunities to exploit the various contrasting patchwork of plants and manmade structures.
I work in a variety of media and always like to try out something new and to experiment. I started using collage to introduce an element of chance and the unplanned into my paintings. I start by sticking different papers to the support. I work on top with layers of transparent and opaque acrylics, to either exaggerate patterns/textures, or to conceal them when necessary. This process is challenging as I have no idea at the beginning how the painting is going to develop. I add more collage shapes as needed plus various acrylic texture mediums and mark-making techniques. Sometimes the painting will wait unfinished for months until I decide how to resolve it.
I exhibit my work during Dorset Art Weeks and in the last couple of years I've also exhibited at Eype Centre for the Arts and Walford Mill.