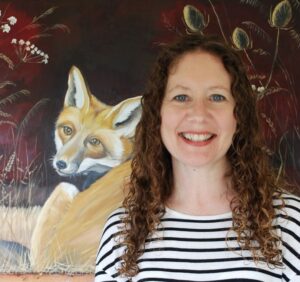 Anita Saunders
I graduated from Exeter College of Art & Design way back in the 1980s with a degree in Fine Art. For the next 27 years I continued to create and to illustrate numerous children's books, whilst juggling a corporate career. In 2017 I finally grasped the opportunity to become a full-time artist and I love it.
So, where did it all begin? Well, I was born in the Cotswolds and spent my formative years roaming this incredibly beautiful countryside with my brother; learning about the natural world around us from our parents and grandfather, as we tended his sheep.  This love and respect of nature is an integral part of who I am and is my constant source of inspiration.
I work mainly in oil paint and traditional printmaking methods – linocut, drypoint, mezzotint and hand drawn screen print.
I get so much pleasure from what I do and sincerely hope some of the joy I experience when creating it, is passed on when people view my work.
Go to www.anitasaunders.co.uk for more information.