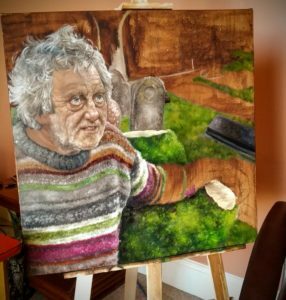 Original oil painting on canvas.  Portrait of local gravedigger, Ray Loxton from Pilton near Shepton Mallet/Glastonbury/Wells, Somerset.
After 40 or so years working as a gravedigger, Ray has some philosophical views on death. "We're all born and we all die, it's what happens in between that matters".
Unframed canvas,  60cm x 60cm x 4cm.
Note: Painting shown on easel represents work in progress prior to completion.