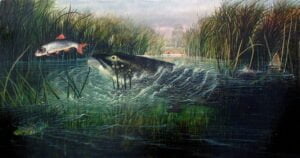 " Jack " is the West Country name for the Pike. This drama is set among the reeds of the Dorset Stour at Shillingstone one windless late-summer afternoon. The tranquility is emphasised by perfect reflections of the reeds as Roach silently glide by. But a storm is brewing and frowning sky is complemented by that characteristic eerie red light permeating the landscape.There is no clue to the ominous presence of the most ferocious of fresh-water predators as Jack maintains his solitary vigil in the darkness of the reeds.
Suddenly an explosion of energy shatters the mirror as the Pike lunges at the passing Roach. Scales and water flash like lightening in that low light. One Roach escapes by the aerial route while another dives towards the darkness.
Soon reeds cease waving, the Jack returns to the deep and the mirror reforms. Once again no one would know that he was lurking there.