Welcome to July's newsletter. This month the spotlight turns to some exceptional gallery artists who are inspired by the human form. From skillful and quickly sketched watercolour scenes to detailed, enigmatic portraits and explorations of the human form in motion. This varied and interesting selection has something for all.
Martin Maxim 'To Swim or Not to Swim'
Martin Maxim
This watercolour scene was quickly sketched by the artist whilst out for a walk on the beach. It shows a woman with her dog. She is caught between wanting to swim with her partner and her dog who is steadfastly refusing to go any where near the sea.
Martin in his work explores the themes of 'seeing and reproducing, light and shadow, design and construction and time and place' .
He likes to work in watercolour, gouache and pen and ink.
Tamsin Dearing 'Dalat Girl'
Tamsin Dearing
The subject of this arresting work is a young girl from the Dalat community in Vietnam. Tamsin has used coloured pencil in this detailed and colourful study. She has captured the intensity of the girls gaze that magnetically draws the viewer to this piece.
Dalat is the main city of the Lam Dong province in Vietnam's central highlands. Known for it's beauty the city is surounded by waterfalls, pine forests, lakes and farmland.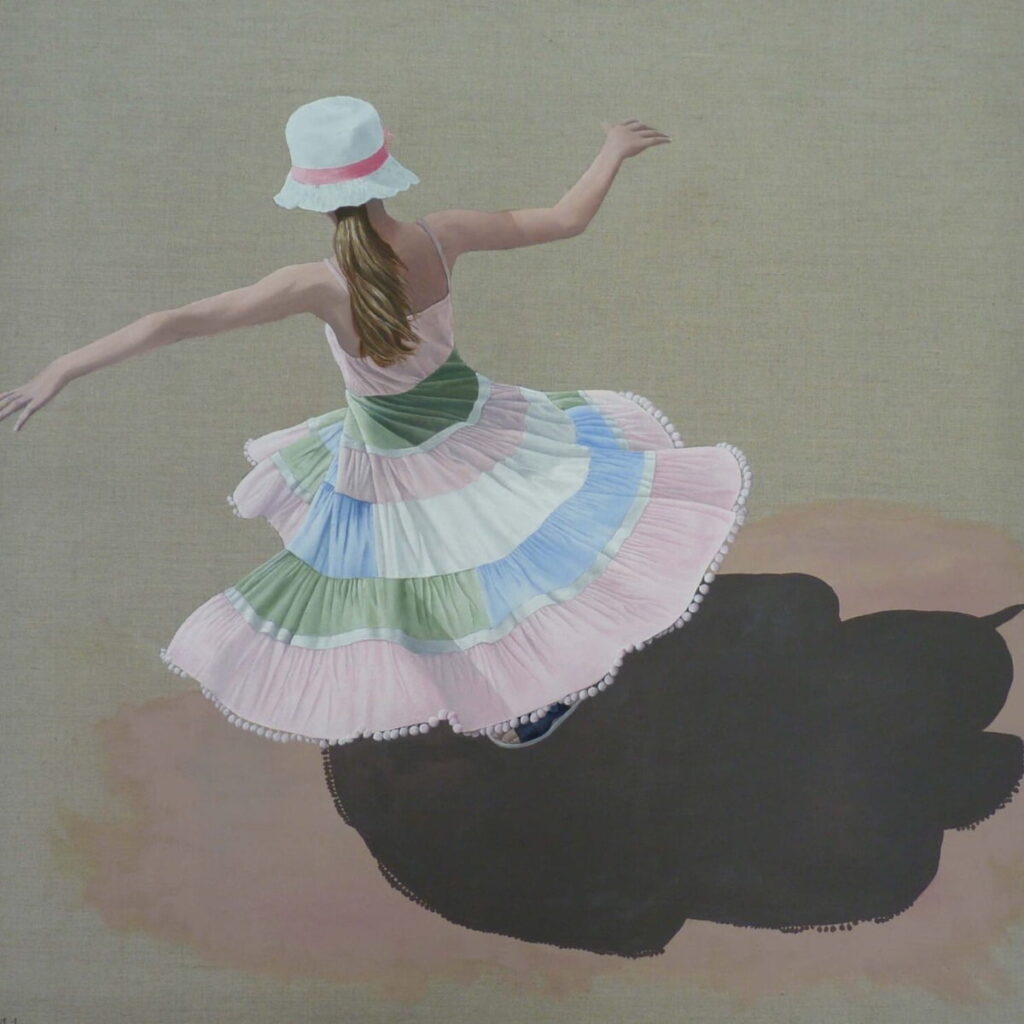 Sylvia White ' The Little Dancer'
Sylvia White
In her oil painting 'The Little Dancer' Sylvia is interested in exploring the form of a young girl in motion. She is depicted mid spin, arms out for balance. She skillfully captures the folds of her dress, it's texture, shape and the interesting shadow cast in the strong summer light.
Sylvia is a painter and print maker. Her work is influenced both by the Dorset landscape and her grandchildren.
Martin Leighton 'Lost in thought '
Martin Leighton
Martin is a Dorset artist particularly known for his striking figurative paintings. He likes his paintings to tell a story so that the viewer enquires what is happening, who the person is and what they look like. This painting makes one wonder just what is going on. Is she gazing out of the window or reading a newspaper.
Paul Askew 'Washing Hands (Rome)'
Paul Askew
Paul paints only in black and white acrylic. This palette allows him to better illustrate everyday subjects, as it helps him to concentrate only on shape and the degree of contrast within the composition.
His art is realistic and always relates to a specifc location. Work portrays real people with an emphasis on their posture and attitude.
Paul's paintings stem from his love of black and white photography, which he has been practicing for the last 30 years.
Paintings are created in the studio by using his images that have been taken throughout the UK and in Europe.
Exhibition News
Dorset artist Cathy Veale has an exhibition at Durlston Castle
Swanage BH19 2JL from July 6th to July 19th. You can see Cathy's latest work.
Exhibition News
The exhibition in aid of Children's hospices is going well. The hospices are Children's Hospice South West, Chestnut Tree House Hospice which is based in Brighton and Haven House Children's Hospice in Essex The exhibition is running from June 15th to July 31st. Look out for details and promotions