Welcome to Art Gallery SW October newsletter. There's a definite feel of Autumn in the air, as the days have started to shorten. Trees are beginning to prepare for Winter, as their leaves prepare their amazing colour displays.
This edition will feature a small selection of gallery artists whose work is available as limited edition and giclee prints. We have featured just 5 artist's limited edition prints
Little Munchkin by Anita Saunders

Limited Edition Prints

At Art Gallery SW we have a wide selection of limited edition prints.

These limited prints are popular with collectors due to their exclusivity and the fact that no further prints are created after the whole edition has sold.

These prints have a lower price than an original painting making ownership of an artwork even more affordable. At Art Gallery SW all prints on the website are available as limited editions.

This eye-catching Autumnal print of a blackbird perched upon a miniature pumpkin is part of a small, exclusive edition of 12. For Anita Saunders the love of and respect for nature is a key part of the inspiration for her work. This hand drawn screen print has been printed in 18 colours, in acrylic ink, on a heavy weight acid-free paper. This results in a high quality work and long lasting image.
Anna Fitzgerald is the artist-in-residence at Powderham Castle in Devon. She paints wildlife and carefree figurative works. Inspiration is found in childhood memories, folklore and mythology.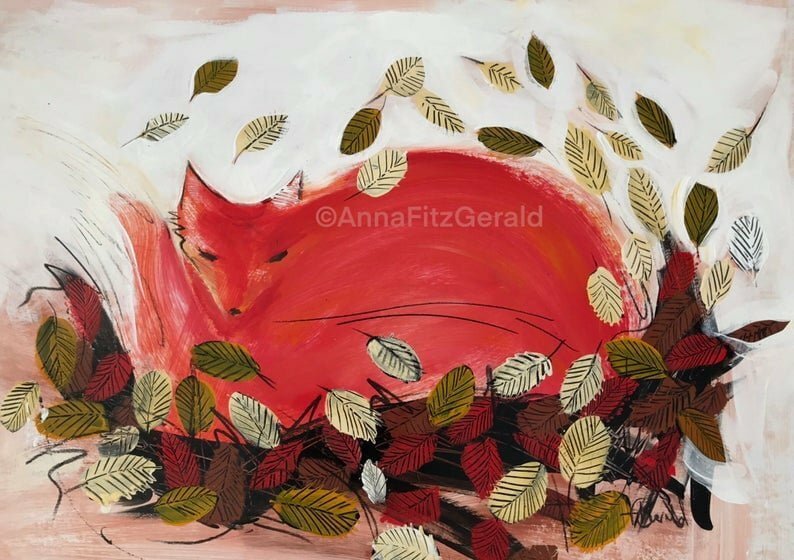 Sleeping Fox by Anna Fitzgerald
This work is full of vibrancy and movement. Whilst the fox sleeps, leaves swirl around him in this lyrical image with dream-like qualities.
Jackie Gale's 'Hope Cove' is full of colour and light. Jackie is a contemporary textile artist, whose work is illustrative in style. This work is available as a Giclee print.
"Hope Cove" by Jackie Gale
Giclee Prints


This type of print is very high quality. Unlike a standard ink jet print, giclee prints use pigment based inks, rather than dye based. Pigment based inks have a longer lifespan and can achieve 100-200 years without any significant fading of colour.

Giclee is a French word that means 'to spray', reflecting the use of large format inkjet printers with small spraying devices that match and apply colours with great precision.
Hidden Hearts 1 (Multi)by Nigel Moores
Nigel Moores print 'Hidden Hearts 1 [multi]' is from a series of prints created during the lockdowns of 2020 and 2021. 'They were a response to the altruism displayed by so many in these extraordinary times'.[Nigel] hopes that they are a reminder of how we were protected, comforted and connected by these heroes, despite our isolation from one another'.
Fishing Boat' by Goran Hahne
Goran is an Scandinavian painter and lithographer whose work is well known in his native Scandinavia.

He lives in Dorset and is inspired by it's traditional villages, harbours and seascapes.

"Fishing Boat' is a limited edition lithographic print. Each lithograph is printed with 16 different lithographic plates. His watercolours are acclaimed for their distinctive contemporary style.