ART GALLERY SW JULY NEWSLETTER
Welcome to Art Gallery SW monthly newsletter. Each month we plan short interesting art based topics illustrated with a works from our gallery artists. This month we feature Marine Art and look at the versatile medium of pen and ink.
We are having a new exciting online exhibition starting on July 16th. It is in aid of the Air Ambulance charities in the South West. Look out for details!
"Dead Slow Paignton Harbour " by Denise Orchard
Maritime Art
Marine or Maritime art is any type of art that is inspired by the sea. It is a genre that has now become more generalist and encompasses: pure seascapes, rivers, estuaries, beach scenes and any art that features boats.

At Art Gallery SW we have a wide variety of works from vibrant and picturesque seascapes of the South West coast to dramatic stormy seas featuring storms tossed ships.

Denise Orchard's painting 'Dead Slow, Paignton Harbour' is a balanced and characterful depiction of the harbour. The surface of the sea is calm punctuated only by a moored boat, gently bobbing buoys and reflections.

Denise's works in a variety of styles informed by the subject matter. She captures the dynamic and dramatic light of clouds, the sea and the many shifting moods of the Devon and Cornwall coast.
Other Maritime works include: Alan Kingwell's 'Crashing Wave' this is a dramatic painting that depicts a raging storm complete with churning waves breaking over rocks. A professional artist since 1985, he has taught for the last 20 years.
"Crashing Wave" by Alan Kingwell
Diana Booth's work 'Soft Breeze Beckons' is painted in an energetic and modern style that captures the essence of the subject. This work shows her love of experimentation. Paintings are often made by applying paint with a palette knife, brushes, rags and even fingers.
"Soft Breezes " by Diana Booth
Pen and Ink

Pen and ink is a medium full of graphic possibilities. It is a traditional medium, first used in Western drawing in the 9th century, in the Lindisfarne Gospels and Canterbury and Winchester illuminated manuscripts. It can be used to create a wide range of styles from striking and bold designs executed quickly to more gentle and reflective works. Often different types of papers are used with varying surface textures, this helps to achieve different effects.

Drawing ink first appeared in China in 3,000 BCE and was created using a combination of pinewood smoke, lamp oil and gelatin from animal skins. Now it is made from a wide range of ingredients from carbon based materials, oak galls a type of deformity caused by oak apple gall wasps and even dyes derived from berries.
"Cornwall Sketches Looe" by Stuart Parker
Pen and ink is versatile and popular. For many artists it has become a medium of choice. There is a wide range of pen and ink works to view on the Art Gallery SW website.

Stuart Parker's pen and watercolour wash works 'Cornwall Sketches, Looe' and 'Southwold, Suffolk' are colourful and full of charm. Combining detail with areas of delicate wash they transport the viewer back to memories of busy fishing ports and happy holidays.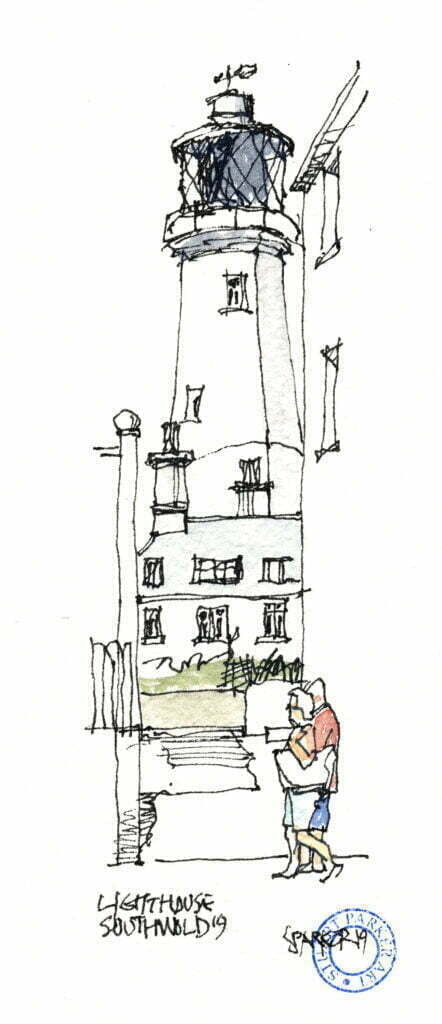 "Southwold, Suffolk" by Stuart Parker
Michael Brobson's work is focused on the town of Wells where he lives and the Somerset Levels. His pen and wash piece 'Somerton Buttercross' shows the octagonal shaped market cross built by the Stawell family in 1673. The building's purpose was to protect vulnerable produce such as butter, milk and cheese from adverse weather.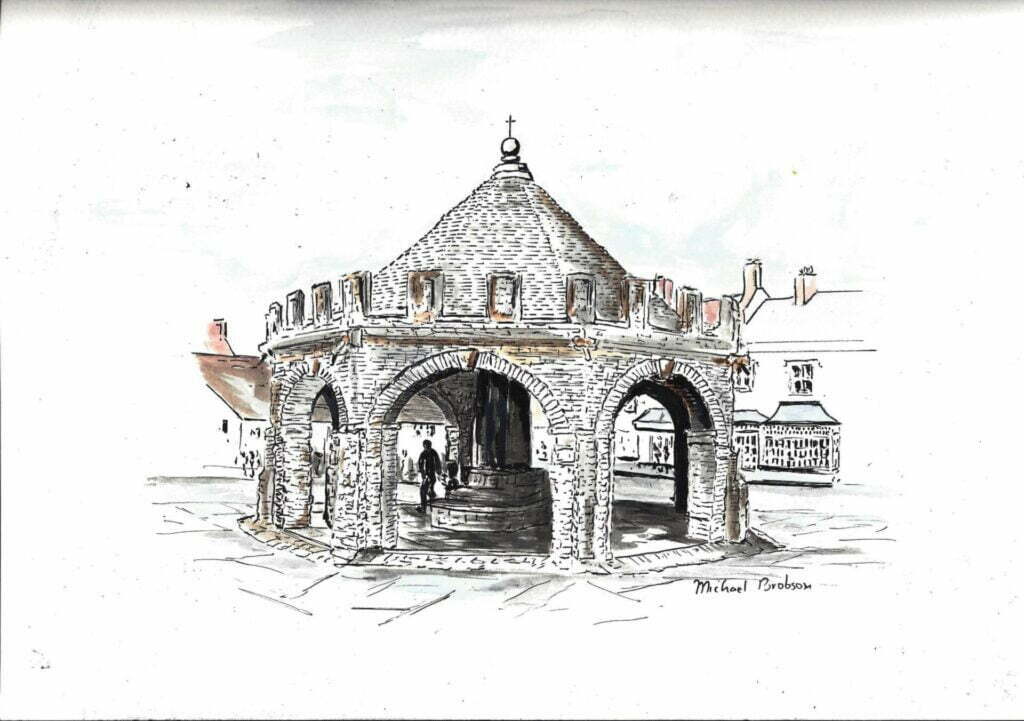 "Somerton Buttercross" by Michael Brobson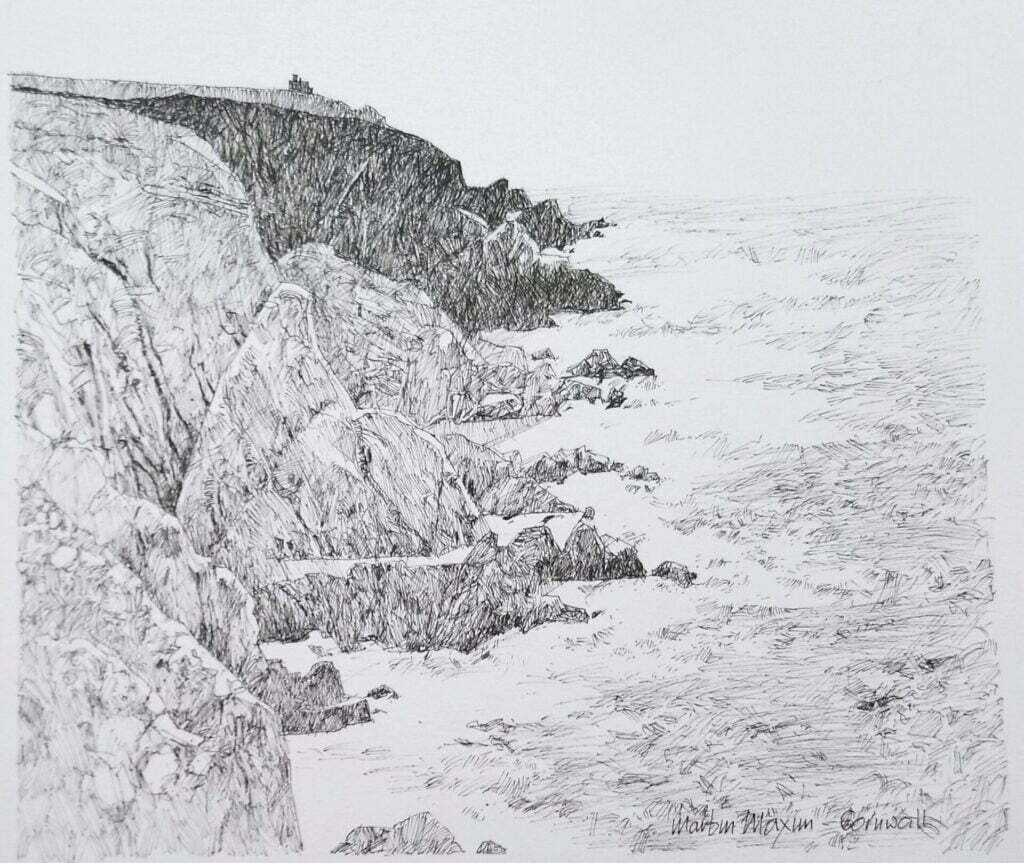 "A View of the South Cornish Coast" by Martin Maxim
Martin Maxim is concerned with 'seeing and reproducing light and shadow, design and construction and time and place'. His work 'A View of the South Cornish Coast' and 'Bellever Forest, Dartmoor', highlight his detailed approach and use of cross hatching as a technique.