FEATURED ARTIST OF THE MONTH: GABRIELLE BILL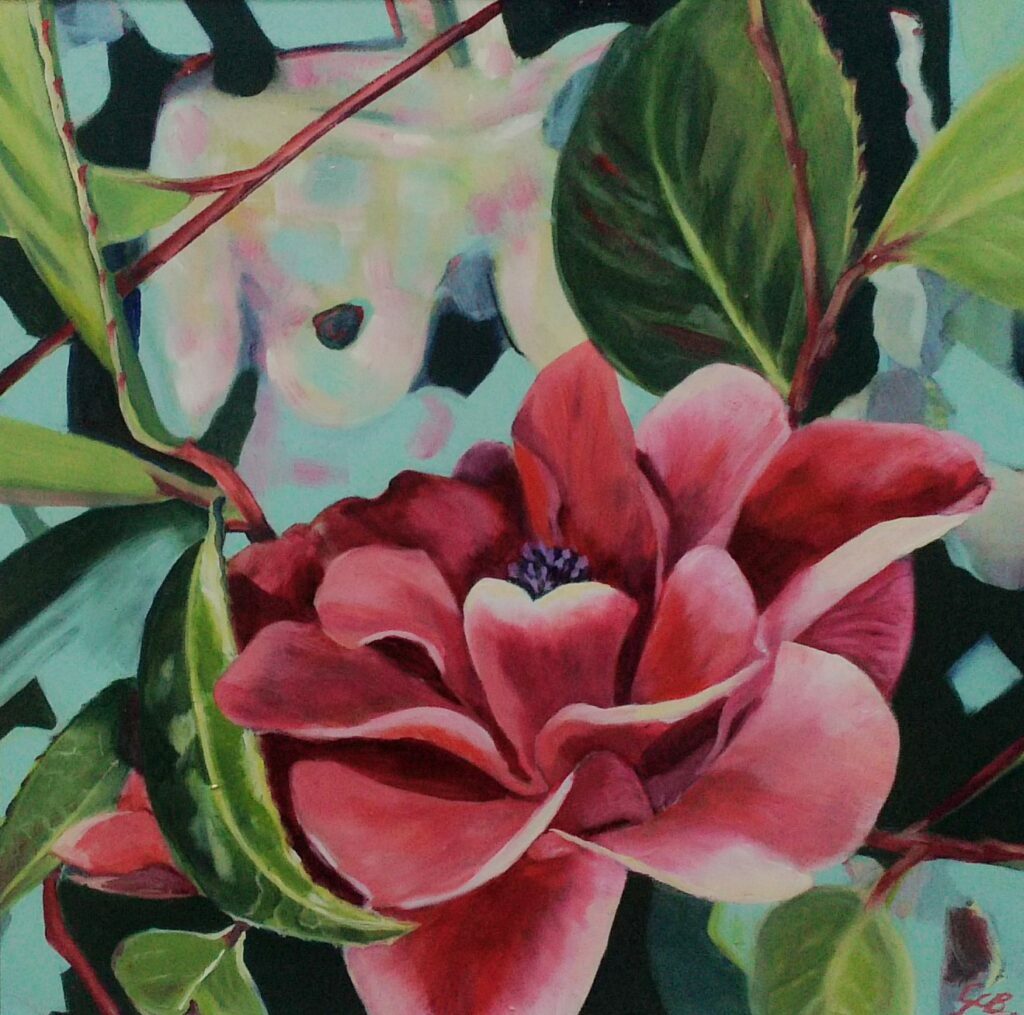 "Japonica"
"Can you tell us more about your work and your inspirations?"
My work is about Being At One with Nature, whether I am working in my studio or En Plein Air. I am inspired by the shapes and how the light falls on the subject and incorporating the life form adds a narrative to the piece giving it another dimension other than just decorative.  I want to create a place away from the worries of the world and especially during this war against the virus.  A space for reflection and meditation.  You will be surprised when I say that I do not like to have cut flowers in my home.  I feel as if I am killing them. So, to capture the image forever in a painting,  immortalizing the image, is the perfect way to enjoy them without disrupting their natural life.
"Brightness"
"What is your process of creation for each painting? "
 When creating a piece, mark making and depth of field is all-important, where the images grow, change and develop on the canvas. Exploring colour and form becomes an exciting, but sometimes exhausting and challenging, experience! I find that quite often things from my subconscious reveal themselves in my paintings without me realizing. Worries I did not realize I had.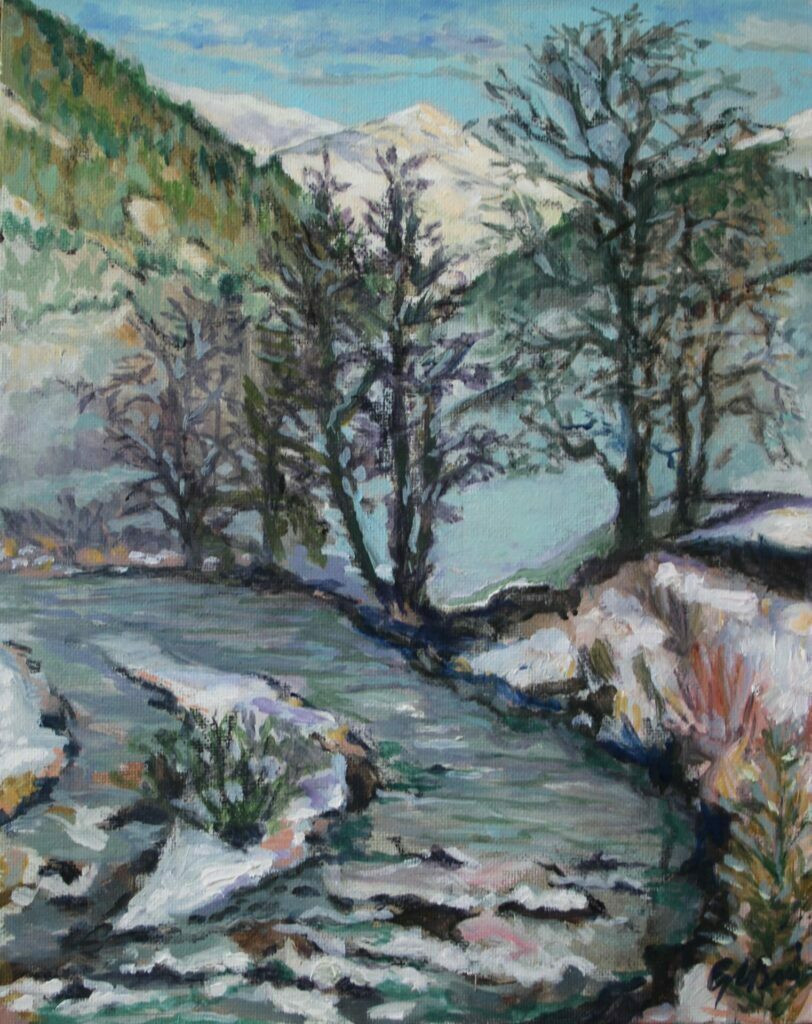 "Misty Morning"
Typically I work by first sifting through images either sketched or photographed where I have captured a fleeting image that could inspire the start of a new painting. The next stage often includes the life model. Once I have two if not three lightly sketched figures on the canvas my imagination gets working and typically I will use a loose acrylic paint to mark in an idea roughly, often taking time to get the right feel before I continue with oil paint, again loosely applied, working into it sometimes with charcoal, slowly but surely tightening up some areas and leaving other areas free and undefined. During the building up of layers an image starts to appear and takes on an existence and personality of its own.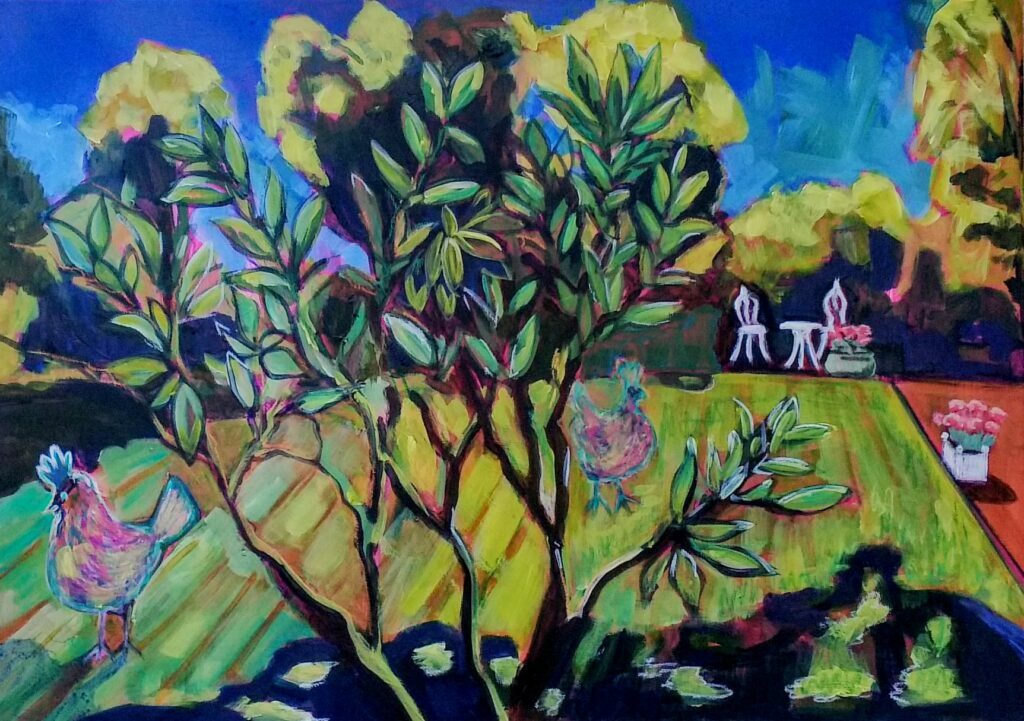 "Chickens"
"Your painting 'Chickens' was painted en plein air. Can you tell us more about your work and painting outdoors. What advantages are there to this method?"
Recently whilst living in the Alps, I re-visited my love of working outside in the fresh air for about 2 hours each day, 4 days a week, a good exercise and practice, though jolly cold at times. I would have to dress up very warmly as the temperature was often down to minus 10. I like the challenge of creating whilst battling against the elements. However, looking like a Michelin man in multiple layers was not the most attractive look and painting with rubber gloves over fleece inners was a challenge on its own!  I have always loved painting outdoors, my first series of en plein air paintings were large 100cm x 75cm, using charcoal and pastel and loose oil paint.  Since then I have found it easier to work on smaller canvases, however it is more difficult to stay loose when working small so it is a constant learning curve.  Practicing looking and concentrating, to recreate anything on canvas in one's own language is an exciting and sometimes exhausting process.  Working intuitively and just letting oneself have fun will almost always help in the creative process.  I find listening to music is always beneficial .  The painting 'Chickens' I painted one afternoon  in my garden, when on a two week self-isolation, having just arrived back from France last year.  I had great fun with acrylic paint just throwing it at the canvas and working into it spontaneously.  I hope that it portrays a happy and joyful feel.