FEATURED ARTIST OF THE MONTH: ALAN OVERTON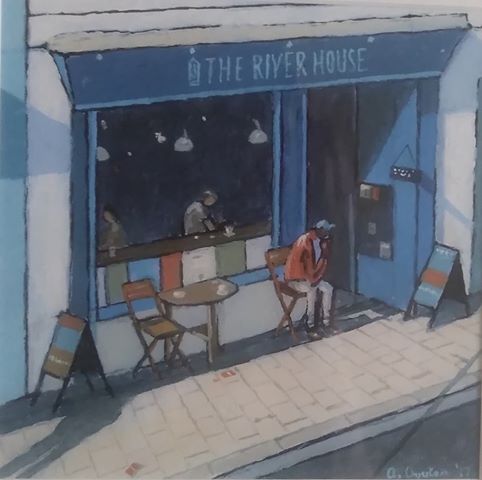 'The River House Cafe'
"What subjects and themes do you find inspirational?"
I usually find the play of light and shade to be the initial inspiration for a painting.Often the effect or quality of light can transform an apparently mundane scene into an exciting one.
I'm drawn to street scenes because of the repeating patterns of windows, doors,rooftops and chimney tops,and the effects of light on the textures of stone, slate and brick. I also find shop windows fascinating for their multitude of objects in varying shapes and colours. I also try to capture the character of a place -and Frome in Somerset, where I live, has plenty of character!
'Eagle Lane Emporium, Frome'
"Can you tell us more about your work 'Eagle Lane Emporium'?"
This quirky little shop, in an alleyway just off the centre of Frome, had all the qualities that attract me on the day of my visit. There was the play of sunlight and shade,and the repeating rhythmic patterns and shapes of windows, doors,signs and objects .
Most of the shop is actually in the basement, and there you will find an Alladdin's Cave of antiques and collectibles of all descriptions!
'Cafe Table'
"In your still life painting 'Cafe Table' you use a restricted muted colour palette. Can you tell us more about this subject and how you achieved it's balanced and harmonious composition ?"
This simple still life required careful thought about the composition and placing of objects. I initially tried a landscape format, but eventually I decided that a portrait format would make a better composition. I tried to create a balanced, rhythmic composition,with a subdued colour harmony that was based on the colours of the subject without reproducing them exactly.
The picture could also invite speculation as to why the sugar lumps are scattered across the table. Perhaps the previous customers were just a bit untidy, or maybe there was something that we don't know about going on?