ARTIST OF THE WEEK BARBARA DAVIS
Dorset based Barbara Davis enjoys painting landscapes, still life and portraits.
We asked her about the abstract work she has on Art Gallery SW.
Can you talk us through the stages of creating your abstract mixed media work "On the Beach 4"?
The On the Beach group of paintings came from a windy walk along a beach where I saw objects on top of the sand.   I then noticed how other objects were partially hidden by blown sand and others began to become uncovered as the tide ran across them.  With these thoughts in mind I started by covering heavy paper with gesso and paint and then using mark making to create the view I had in my mind of things becoming covered and uncovered.  I envisaged objects appearing and disappearing and just carried on painting until I felt the image was complete.
What media are you drawn to in your work and why?
I like using all media and often together as I feel that this sort of approach represents life in all its aspects.  The mixed media approach encourages me to allow the painting to evolve without any restrictions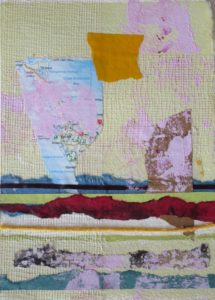 Can you tell us more about a work that has been inspired by a specific memory?
 The collage "Exploring on Holiday" was evoked by memories of a trip to New Zealand a couple of years ago.
I find that leaving memories to settle allows me to distill the essence of what was so wonderful about everything I saw and experienced.  Colour is a very important part of my life and my work and by using collage/mixed media, elements can be introduced to the painting by way of layering, giving the whole piece a feeling of liveliness.
In "On the Beach (2) you use texture to great effect. Can you tell us more about your mark making and the overall importance to your abstract work?
Mark making is very often how I begin my abstract work.  Although I would  have a possible subject matter in mind, just to initially create relevant and irrelevant marks on a clean white canvas/piece of paper can kick start the creative process.  After the initial burst of disrupting the whiteness with marks I can leave the whole thing to rest while I consider the next move.
How has living in the South West influenced your practice?
 There is so much inspiration in the Jurassic Coast that one is never short of a subject but we are also blessed by having many artists living and working in the area.  Visiting studios and seeing how other artists work is wonderful and I have gained much reassurance about my work by looking at the work of fellow artists.
See more of Barbara's Work on Art Gallery SW  https://www.artgallerysw.co.uk/vendor/barbara-davis/
See Barbara's Website  http://www.barbaradavisartist.weebly.com