ARTIST OF THE WEEK RACHAEL BENNETT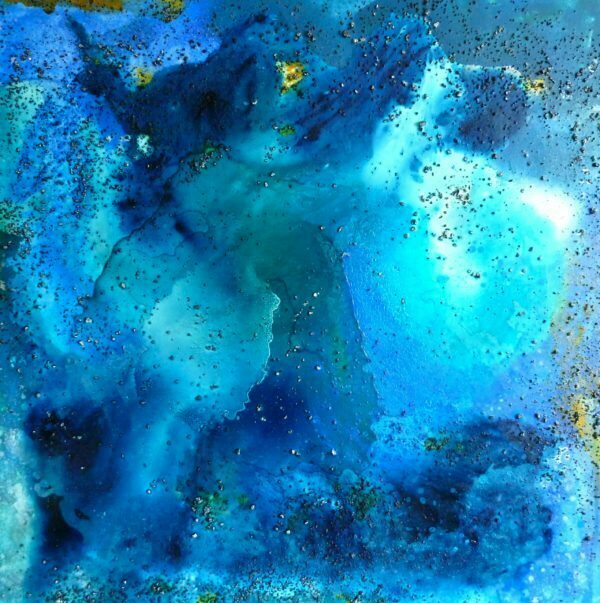 "Cosmos No 18"
Rachael is a very well known established Devon based artist. She exhibits widely and sells her work in a number of galleries, online galleries and through her own website.
We asked her.
Can you tell us more about your work and influences?
My work revolves around a single theme – liminal space – that is what moves and interests me. It is the quiet time between dreaming and waking, intervals between in the landscape – land/sky/sea/water, those quiet spaces that give room for contemplation. I see my work as an environment for meditation and the viewer"s own story. I am not  at all interested in literal or gimmicky art. Art has to have a deeper dimension, an immersive quality that makes us ask questions.
I find making my paintings and drawings very difficult. If it is not I am not learning anything. I am engaged in a personal quest and if others are moved by my work that is fantastic because I have been able to make a serious connection.
I like art that moves me to tears, my frequent tears come with Rothko, Van Gogh and Kiefer.
Can you tell us about 'Cosmos No 18'and the series that it is from?
The Cosmos and SeaCave series comes from a visit to Iceland several years ago. I travelled around the northern area where it is isolated and dynamic and the land is constantly being reborn. I am very attracted to unstable, new/ancient landscapes that are harsh and difficult to negotiate. I spend several weeks a year in Lanzarote for the same reason and lots of my work has been generated during hikes, climb and swims – the physicality and potential danger interests me and translates directly to how I make my work.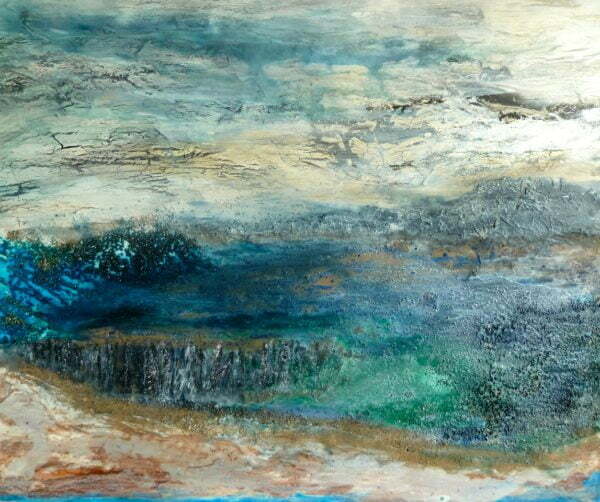 "Northern Hemisphere No 5"
How do you create the crackle effect found in'Northern Hemisphere No 5'?
To be absolutely honest I do not know. I don't work in a formulaic way. My paintings are built up with layers which are often taken back and rebuilt over and over again. I work intuitively to get to the point of finish which is long, often very risky and  frequently frustrating. My process is very physical and a weird balance between haphazard and very exacting. I take risks and I worry a lot!
Do you paint outdoors to capture the effects of the weather and light upon your landscapes and seascapes? 
I very seldom paint out doors, only in  a sketching way as my paintings are mobile to the point of finish. I walk and take photos and make quick notes and drawings, take rubbings of the area. When I am back in my studio I pin everything up, probably make some collages to tell my story and then start on a finished painting.
"Ocean No 8"
In'Ocean No 8' you create texture with sand and layers of colour. How important is texture to your work?
Texture in my paintings is not at all important a "thing" to me. Texture is a result of the materials I choose to use to convey my ideas and thoughts. I very often use materials from site because materials used and image created for me must be ultimately integrated – that is what keeps me continuing and learning.
More of Rachael's work can be seen on  https://www.artgallerysw.co.uk/vendor/rachael-bennett/
and Rachael website      https://www.rachaelbennettpaintings.com/about