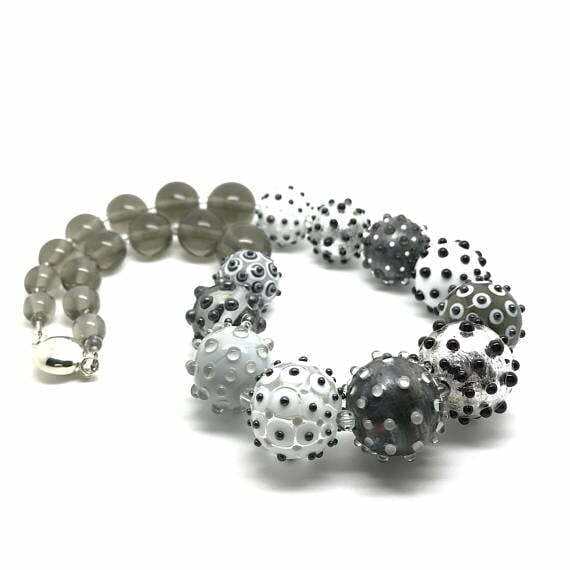 ARTIST OF THE WEEK HELEN GORICK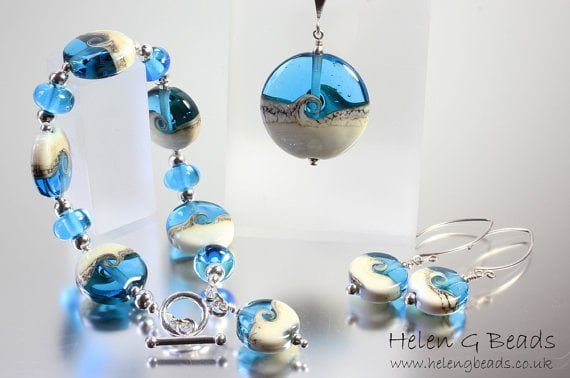 Can you tell us more about your artistic background and your route into lampworking?
I've enjoyed arts and crafts from an early age and I have memories of making posting boxes using empty cat biscuit packets and miles of cellotape when I was about 5/6 years old. Jewellery became an interest in my first years of secondary school, especially earrings as I'd finally been allowed to have my ears pierced. I used to spend my pocket money on beads and wire and make earrings for myself and my friends.
I left school with an A'level in art and subsequently gained a BTEC in general art and design at Torquay College. Following this I studied HND mixed metals at Plymouth college of art but due to financial constraints had to leave the course early. I had gained enough knowledge though to continue making jewellery in my spare time and eventually applied for Princes trust funding to start a business making silver jewellery.
Fast forward a good few years and I discovered the art of lampwork by accident really. Following a long period of serious illness, I had lost the strength in my hands needed to make jewellery with silver but had the desire to be creative again. I went back to my school years of buying beads and that's when I found a lady that was making her own glass beads from her home. I was fascinated as I didn't realise this was even possible without lots of equipment and when I saw she would teach you how, I simply had to go and try. That was nearly 11 years ago now and to this day I still love the anticipation of opening the kiln after a good bead making session.
Can you explain what lampworking is
Lampworking is the process of using coloured rods of glass about the thickness of a pencil and melting the end in a flame to create various objects including beads, sculptures, vessels and even glass eyes! To make beads, when the temperature is just right, you wind the molten glass around a metal rod with a special coating on it (to allow the bead to come of when cool) so the thickness of the metal rod denotes the size of the hole in the bead. All the decorating on my beads is done in the flame and the bead has to be finished as you can't allow it to go cold and then work on it again. My beads go from the flame to a hot kiln where they are held at 510c until I have finished for the day when I advance the kiln to the cooling process. This takes roughly 7 to 8 hours and means that the finished beads have the strength of a marble.
What do you love about this medium?
I find glass is a therapeutic medium to work with, watching the glass begin to glow and then slowly rotating it and using gravity to shape it can be so absorbing the time just flies. It's reasonably instant although you never see the true beauty of the colours you've used until the following day when everything has cooled. As the glass is colour using metal oxides, there are chemical reactions that can occur between certain colours and these are often utilised in my designs. There are so many colours however that you never stop finding new combinations and learning from them.
What inspires your designs?
The colours themselves often inspire my designs, especially the more precise ones. I'll see a piece of wrapping paper or maybe a shirt in a shop and try out the colour combinations back in the studio. I also have a range of work I call Jurassic coast and as you might have guessed these were inspired by the fossils I have found on the beach in Charmouth which is just a 15 minute drive from my studio.
Can you tell us more about the process of creation of your lamp work and silver coastal pendant?
To make a Jurassic coast bead I have to make a couple of elements beforehand. The copper/gold lines on the bead are made using chunks of goldstone that I warm gently in the flame before completely encasing them in clear glass and melting to a large gather which is what a glass worker calls a ball or blob. Once I have done that I take my pliers and while the glass gather is still glowing, pinch the end and pull which will make it into a long thin strand which I then cut up to lay onto the bead. Next I need what we called shards, these are thin egg shell thin pieces of glass that are make by making a hollow blob on the end of a blowpipe and then blowing to inflate it thereby thinking the wall. I then break it into the right sized pieces.  Now I'm ready to make the bead which is just a plain clear one and then it's a bit of a juggling act to keep the bead warm but not glowing so I can apply the shards and then the copper/gold. Finally the centre of the bead is heated and then twisted by sticking the end of a clear rod of glass on it, twisting, breaking off and then warming to make sure there are no sharp edges.
Do you create sketches in preparation for each design?
Making sketches of my ideas was something I hated doing at college and to this day it's not something I do. My sketches are in my head.
How do you manage to create the sense of depth in your work?
I create depth in my work by layering colours with clear, ive always preferred making beads with the designs within rather than in the surface, they are also the more challenging ones to make.
On average how long does a work take to create?
My beads take anything from 2 minutes to 2 hours to make and it's difficult to come up with an average as I make so many different kinds. The longest I spend on one bead was 3 and a half hours, one of those I wish now that I hadn't sold!
What are the particular challenges associated with this medium?
One of the biggest challenges is making larger beads and keeping them hot enough. The key to lamp working is heat control and knowing by instinct how long you can ignore a part of the bead. If the bead cools too much and you then let it near the flame, it will crack and often explode leaving you with a bare mandrel and no bead.
Can you tell us more about the tuition packages you offer?My tuition packages are arranged on days to suit and are private so you would only ever be with people you arrange to come with. I can accommodate up to 4 of you and I cater for beginners right through to advanced.
Taster sessions are 3 hours and on average most people will make around 6-8 beads. On a full day you will make double that and at the end of the day we will usually make a larger flat bead for a pendant.
I can honestly say that everyone I have taught has been thrilled when their beads arrive in the post (you can take them home with you because they have to go through the kiln process) and several have come back time after time. I also offer torch hire once you've had a class with me so if you get the bug and are not too far away, you can come to the studio and practice without having to invest in the equipment.