ARTIST OF THE ALISON WEBBER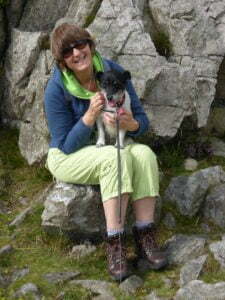 Your photographs are predominantly monochrome.  Can you explain why this form appeals to you and the characteristics it lends to your work?
I have found that monochrome allows me to express more creativity in the images I produce. Without the distractions of colour, there is more emphasis on shapes, texture, structure, light, shade, tones and composition. In this way I feel I am better able to convey mood and emotion, and there are always more things to discover hidden in the apparent simplicity of monochrome.
'Daisy-go-round' is an incredible work filled with humour and motion.  What was the inspiration for this piece and what technique did you use to capture this sense of speed and movement?
At one point in the year it seemed that everywhere I looked there were great swathes of Oxeye daisies. When I stopped to take some images of them they were gently swaying in the breeze and I felt I wanted to capture this sense of motion. The technique I used is called "Intentional Camera Movement", which can produce a wide variety of different effects depending on how the camera is moved. To achieve this particular effect I deliberately twisted my camera round while taking the shot.
Can you tell us more about your route into photography?
In my twenties I was keen on photography but I never took it seriously and the only photos I took for many years were record shots of family and holidays. This all changed in the summer of 2016 when my husband and I visited the Canadian Rockies. I was blown away by their sheer beauty and started taking a lot of photos with my compact camera. Looking at the images I captured on that holiday, I decided that I would really like to take photography more seriously. I was lucky to be given a Fuji XT-10 for my birthday that year and off I went.
I started off as a landscape photographer who would routinely go out with a large rucksack and tripod in the hope of catching a blazing sunrise or sunset. However, I now prefer to head out with just my camera, taking photos of whatever I find interesting and appealing.
Over the last two years my style of photography has continued to evolve and about a year ago I fell in love with monochrome. I find black and white photography very atmospheric but it also enables me to use textures, patterns, shadows and reflections to focus on the interaction between shapes and light.
The majority of your work on the Art Gallery SW website is from your collection 'Moments in Time'.  Can you explain more about this collection, its inspiration and subjects?
"Moments in Time" is the name I gave to my first book. It is a unique collection of monochrome images of Dorset. It was inspired not only by the Jurassic Coast, but also by the many photo opportunities which can be found in Dorset's towns and villages. I wanted to put together images which reflect my personal attachment to Dorset which includes anything from "Beach Huts to Bath Plugs."
What is your creative process?
My process is in part instinctive – I'm always looking out for things that I find appealing and wondering if there is an interesting image to be captured. I am influenced by textures, patterns, shadows and reflections and the part played by changing light and a balance of tones. I then try to isolate the interesting parts of the scene from the things that would be distracting with a variety of techniques. I aim to do as little post-processing as possible – for me the creative process is in capturing the image in the camera and not in manipulation of a captured image.
Can you tell us a bit about your visually witty image of 'Giant Bath Plugs'?
I try to spot things that other people might not appreciate – if they notice them at all! One day that I was in Lyme Regis I saw these things on the quay side. I understand they are mooring weights made from old train wheels. But to me they looked like huge bath plugs. The aim then was to capture an interesting image with the range of textures and light on the metal, the stone of the Cobb the water and the sky in an image that drawers the viewer into the scene and keeps them interested.
In the photomontage 'Bathing Belle' we see a composite of several images.  Can you explain a bit about the process of making a photomontage and how you use it in your work to direct the viewer towards specific connections and messages?
I have become interested in exploring reflections. They are all around us, but so often we don't pay much attention to what is reflected and how it contributes to the scene. This image isn't a photomontage created in post-processing – this image was captured in the camera. The bathing belle is part of a window decoration of a seafront business, the wavy line is a reflected shadow of the edge of the awning and the sunlit buildings are part of Weymouth's seafront reflected in the window. Every element of the image is about enjoying a sunny beach holiday. Thousands of people will have walked past this scene without noticing it.
What are you currently working on?
It is true that I have always got a number of projects on the go!
Recently, I set up a small monochrome critique group where a small group of photographers get together once a month to discuss their work.
I have just started to offer a number of one day monochrome workshops at locations within Dorset. During the workshops participants will explore the boundaries of monochrome photography, learning to experiment with different ideas and perspectives. Details of these workshops can be found on my website.
Having been awarded the LRPS distinction by the Royal Photographic Society in February this year followed by the ARPS in October. I want to see how my photography develops over the next couple of years before I start work on the final distinction, the FRPS.
Do you have any up and coming exhibitions?
I am in the process of planning exhibitions for 2019. Details of these will be posted on my website at www.alisonwebberphotography.comDo you have open days for visitors to come and view your work in person?
I have an Open Studio at my house once a month. Anyone is welcome to come along to see my work and there is a large selection of mounted and framed prints for sale as well as greetings cards and copies of my book. The remaining dates for 2018 are: Saturday 17th November and Saturday 15th December.
Alison's contact details:
Telephone. 07955 220024.
Email. alison@alisoneenbberphotography.com
Website.http://www.alisonwebberphotography.com