ARTIST OF THE WEEK KATE GODDARD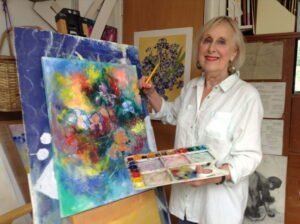 Kate Goddard lives in Ringwood Hampshire and gives art classes and is known for her still life paintings.
I began by asking her.
What or who inspires your art?
Matisse inspires my art, also the Scottish Colourist
If you could own one piece of art what would you choose ?
I'd choose, "Open window at Collioure". By Matisse.
What work are you currently working on and what was the inspiration behind it?
I am preparing for another series of still life and gathering props, also making preparatory sketches.
Do you have any studio rituals?
Before I paint the Studio has to be cleared of all clutter.
Can you tell us a bit about your still life 'Aspidistra with red vase 12'?
"Aspidistra with Red Vase". This plant has been in my hall for a long time and I decided to paint it and found other objects and fabrics that I thought complimented it. I built up the composition until I was pleased with it.
What are the benefits and challenges of working in watercolour and ink?
The challenges are that one mustn't makes mistakes because once painted it's almost impossible to change. The benefits are that lights is important in my work and watercolour is the perfect medium for capturing it.
Your portrait Oliver 19 is a departure from your still lives.  What is the story behind this painting?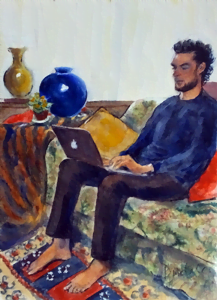 As well as painting still I often put figures into an interior and my method of working remains the same. The figure is an integral part of the composition.
How do you see your work developing?
As a painter ones work develops and progresses constantly on its own momentum. Sometimes that progression leads to experimentation.
Kate's other artwork on Art Gallery SW can be seen at https://www.artgallerysw.co.uk/vendor/dinsdaleart/