ARTIST OF THE WEEK 'CATH BLOOMFIELD'
Black Abstract collagraph print
Cath in her workshop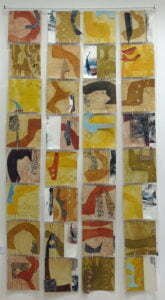 "Interchangeable Ideas"
Who or what inspires you?
Some of my inspiration comes from being in the landscape, just walking. Colours, shapes the weather these can be a feast for the eyes. Life drawing, looking at another artists work all go in and come out sooner or later.
Can you tell us about your artistic background ?
I began my endeavours in art at a local college as a mature student. Immediately drawn to the 3d I went onto do sculpture at Bath University. However, I was tempted into ceramics by the material and its possibilities.
I also developed an interest in installation. So instead of a dissertation I created an installation at the University with a companion piece in the Holburne museum.
During my degree I developed a love of printmaking. Particularly collagraph.
This process lends itself to textured surfaces made using a variety of materials.
A raised printing plate is assembled, inked up and printed onto damp paper. This gives a print with a rich embossed surface. Each one can be different.
Always having new ideas for presenting my work has taken my practice into diverse areas. Using collage to give the prints real depth, hanging the plates as well as the prints. Installations made with metal and plastic, using stitch as another mark making tool. I am a flexible artist; the workshop is a place to experiment with materials and develop possibilities.
Where do you create your work?
I am very lucky my workshop is at the bottom of the garden. I love gardening and so am surrounded by colour and natural sculpture. The garden attracts all manner of insects and when my daughter was young she collected any thing dead that had wings and legs. She also had giant spiny stick insects and many other bugs and grubs. She had quite a collection in glass display cases when she came to move out. Moving these around gave me the idea for making my own. Larger than life beetles and moths. I made 8 printing plates and many prints. Then I set about cutting, stitching, tearing and collaging my own moths and beetles. About 40 in all , with Latin names courtesy of google!
"Moth"
Can you describe the process of creating the work "Land and Sea"?
After this I was looking for an idea for some work for a show down in Lyme Regis. A sea side town, already full of artists presenting scenes of the beach and the Cobb. We went walking along the beach watching the sea doing its thing. The vast expanse of sky, changing colours and textures. I had made a "sea "print which was lacking and a "land" print which worked well. I simply combined the two. "Land and Sea". Cutting and assembling the pieces alternatively. This idea sparked a series of works combining different prints, giving them a real 3D effect.
How much preparatory work do you do before you create the final piece?
Sometimes printing plates take shape quite quickly other times they evolve over several weeks. I have small sketch books that I draw and make notes in.
On my shelves are a great range of art books I inherited from my dad, not always for reading just looking at the pictures! Ideas can also take you somewhere unexpected, travelling their own course, I am not fixed in the outcome of my practice.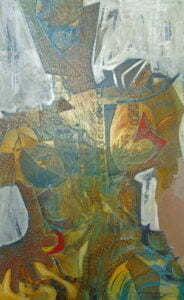 "Warrior Woman"
What piece are you working on at the moment?
Now I am working on a series of "Warrior Woman", who appeared from some life drawing. At the same time I am building a group of "trees", collaged paper, inks and the wonderful P.V.A. There is never a shortage of ideas in the natural world they are there for the taking. This new work will hopefully be ready for an exhibition in October with Somerset Print makers.
Have a look at more of Cath Bloomfield's work, right here: https://www.artgallerysw.co.uk/vendor/cath-bloomfield-artist/